HDMI cable with RGB lighting for up to $200, because why not?
Vivify releases first HDMI cable with RGB lighting -- 9-foot cable for $80, 15-foot cable for $100.
Published Nov 14, 2019 9:51 PM CST
|
Updated Tue, Nov 3 2020 11:46 AM CST
1 minute & 27 seconds read time
The rest of our PC components and peripherals have RGB lighting, with one of the last pieces of the RGB puzzle being our display connectivity in DisplayPort and HDMI cables with RGB lighting... until now.
Vivify has announced their new HDMI cable with RGB lighting, with two lengths available -- a 9-foot cable for $80 (discounted from $150), or a longer 15-foot cable for $100 (discounted from $200). Vivify's new Arquus W73 (because people are going to call it that) is a 4K "gaming" HDMI RGB cable, with 7 different colors and a cycle mode to boot.
Vivify's new RGB laden HDMI cable isn't just an HDMI cable + RGB lighting -- the company adds that it has used high-quality fiber optics with the new Arquus W73 cable that allows for longer cables over passive copper HDMI cables. Traditional copper cables use electricity to transmit signals, versus fiber optic cables using lasers. Light (and thus, lasers) move much faster than electricity as well, on top of not being affected by electromagnetic interference (EMI) or radio frequency interference (RFI) like traditional copper-based HDMI cables.
The new cable is rated for HDMI 2.0b, so you'll be able to handle full 4K 60FPS at 4:4:4. They're also just one-fifth the weight of traditional copper cables at the same length, with Vivify saying their new cables are slim, soft, and pliable. You can squeeze them in anywhere, versus larger and stiff HDMI cables that when squeezed in a tight spot, will eventually fail.
HDMI 2.0b specs:
Supports bandwidths up to 18Gbps

Transmits 4K at 60Hz with 4:4:4 resolutions

Supports up to 32 audio channels for an immersive audio experience

Supports up to 1536kHz audio sample for high sound quality

Delivers dual video streams simultaneously to multiple users on the same screen

Delivers multi-stream audio to up to four users at once

Supports wide-angle theatrical video aspect ratio of 21:9

CEC extensions provide expanded command and control of consumer electronics devices through a single control point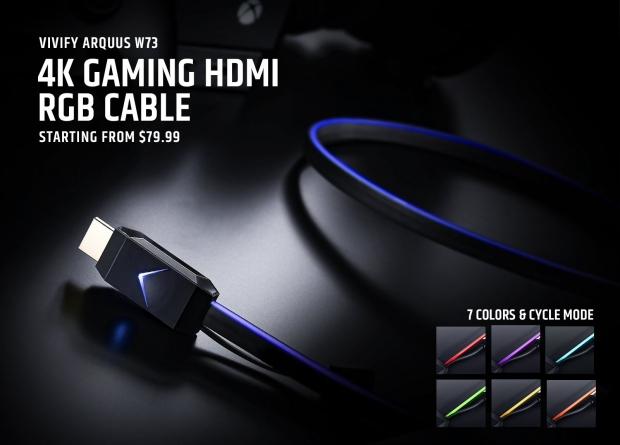 Related Tags