Corsair drops a 5GHz bombshell with its new Vengeance LPX memory kit
Corsair made a special kit of Vengeance DDR4 5000MHz memory, it's made for the uber OC enthusiasts looking for the best IC's they can find.

Published Wed, Oct 9 2019 4:10 PM CDT
|
Updated Tue, Nov 3 2020 11:46 AM CST
Corsair probably surprised a lot of people today when they unveiled their new Vengeance LPX RAM kit rated to run at 5000MHz.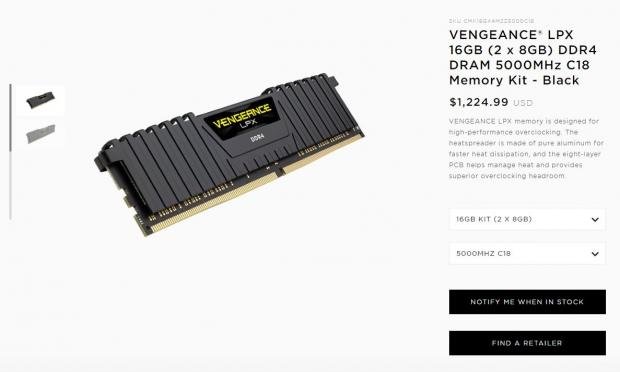 For those interested, as of now, the kit is listed on the Corsair webpage at $1,224.99 which is about 4.08MHz per dollar, or we can look at it conversely at $75 dollars per gigabyte of RAM. Now I say this in jest as I know the trouble a memory manufacturer goes through to tightly screen IC's and come up with enough choice units to validate these sorts of speeds.
There are some other considerations to be had as well, you are going to want to check with Corsair and closely pick through their validated board list to ensure you are pairing this sort of kit properly. When considering a uber high-speed memory kit, you must remember that there is a large amount of moving parts in play that can cause hang-ups along the way. CPU IMC quality is part of it.
With a memory speed this high, I would leave it to the professional overclockers to pony up for this kit and get something more in line with your needs, as running this high of speed on a 24/7 system is nary unrealistic. We actually linked a much more user-friendly 3600MHz Vengeance kit from Corsair on a buy link to this article in case you are looking for a solid high-performance kit that will run on most any DDR4 capable system.
If you feel so compelled to chase the unicorn, however, you can find it via the Corsair website with the model number CMK16GX4M2Z5000C18.
Related Tags