AMD teases next-gen EPYC: Zen 3 and Zen 4 with Milan and Genoa
AMD's next-gen EPYC processors get teased, Milan is next and then all roads lead to Genoa in 2021.

Published Sun, Oct 6 2019 10:25 PM CDT
|
Updated Tue, Nov 3 2020 11:46 AM CST
AMD has teased the world with some more news on its next-gen EPYC processors, with the new chips to be based on its next-gen Zen 3 and Zen 4 cores. The news was unleashed at the HPC-AI Advisory Council UK conference.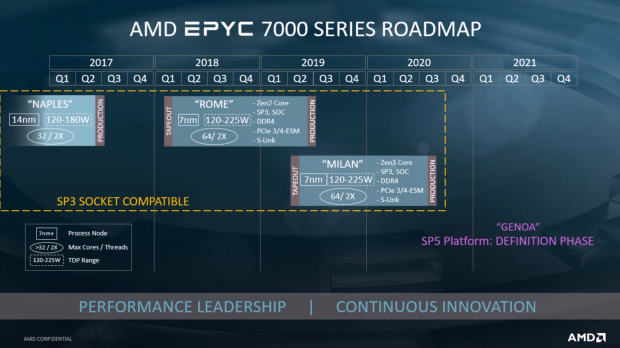 The new road map shows the current EPYC Rome CPUs going into production in the middle of 2019, which they have -- and are now being installed into datacenters and servers worldwide. The next-gen EPYC 'Milan' CPUs taped out in Q2 2019, and will go into production this time next year (Q3 2020).
EPYC Milan will use Zen 3 cores and be on the 7nm+ node with up to 64 cores, and TDPs of between 120-225W depending on the processor. But it's the next-gen Genoa that has us excited, with the new EPYC 'Genoa' chips arriving sometime in 2021 and are in the "definition phase".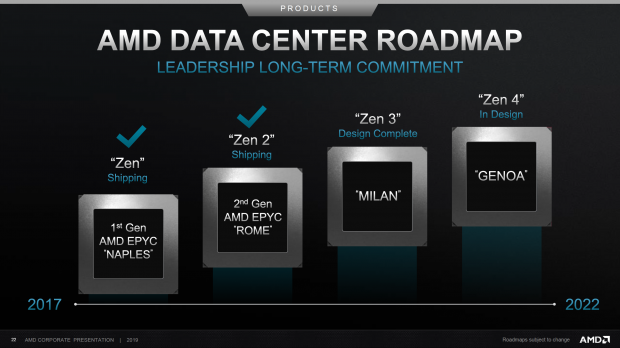 Genoa will be a big change, as it will feature post-7nm Zen 4 cores, SP5 platform with a new socket, PCIe 5.0 support, DDR5 memory support, and more. It sounds like a huge change from EPYC Rome and Milan, and should make for an interesting time with AMD now knocking on that big blue door that Intel has been hiding behind for years.
Related Tags