One of the largest fights between comic book fans and in particular, Superman and Flash fans... is who is faster in a race? Now we know -- Superman.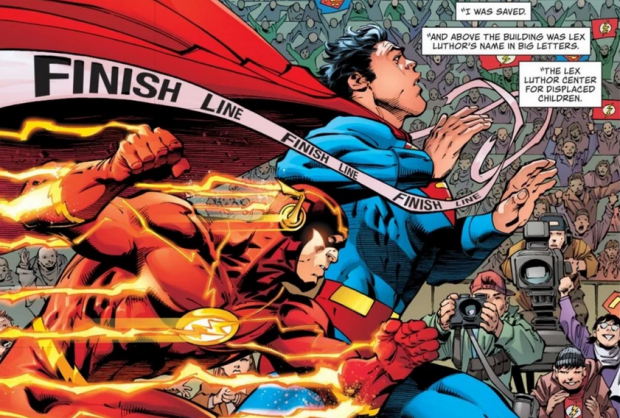 Kal-El and The Flash race in Superman: Up in the Sky #4 (which is on sale now) with DC officially tackling the question of who is faster. This isn't the first time the two heroes have raced each other, as they first battled it out on the track in 1967 in Superman #199, racing twice and tieing in both races. This time? Superman comes out on top.
Since then The Flash has normally been able to out-pace Superman, especially when he pushes himself to his absolute limits. But in the latest race, Superman collects himself and when pushed, demolishes the Flash.
In Superman: Up in the Sky #4 the two race around the world 10 times, and then once more for charity. The entire world is watching, with the Flash taking the lead at first but then Superman slowly catches up.
Lex Luthor is of course watching the race, analyzing it as the Flash and Superman are racing and sees that Superman is going to lose. Lex being Lex, uses the situation to his advantage and wants to change the public perception of Superman so he rigs the match.
Lex pledges $1 billion toward charity that if Superman wins the race, he'll donate the $1B toward a foundation. Lex thinks that when Superman loses the race, people will blame him (really, Lex) for losing the $1B that Lex pledged towards the charity.
Superman of course has super-hearing, and overhears Luthor's plans and decides to use all of his yellow-sun-given-powers to beat the Flash so that the $1B donation is inked.
Superman pushes himself to his suped-up limits, and beats the Flash to the finish line forcing Luthor to put his money where his mouth is and donate the $1 billion towards charity.
As a life-long Superman fan, this brings a big smile to my face. And you know what, it's better than this hot mess of a race from (bleh) Justice League: