At about 2:45PM yesterday, Intel's price slashing was leaked. We were actually at the briefing when it happened, so we will clarify some of the new details with Intel's official slides. For starters, prices are being slashed by up to 50%, which is huge news. However, if you have had experience with Intel's top of the line CPUs over the past decade, their Extreme Edition flagships have always been priced around $1000. It's refreshing to see Intel react to market demand and bring the price down to more normal levels.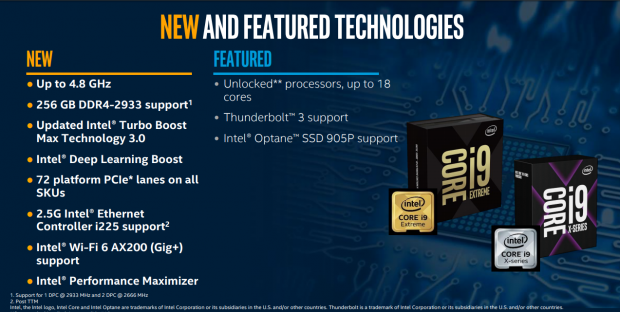 The 10th Generation 14-nm i9-10980XE will be their flagship CPU with 18 cores, and all the new CPUs are Cascade Lake-X series. All the CPUs get considerable boosts to their maximum Turbo frequencies, with the 18, 14, and 12 core variants going up to 4.8GHz and the 10-core CPU going to 4.7GHz. When we inquired to the turbo tables Intel told us they would have to get back with us.
We did notice that Intel has dropped their 16-core variant, and we believe this was done due to low demand. Total platform PCI-E lanes have been increased to 72, which is due to the addition of four PCI-E lanes, so the CPUs all have 48 PCI-E lanes instead of 44.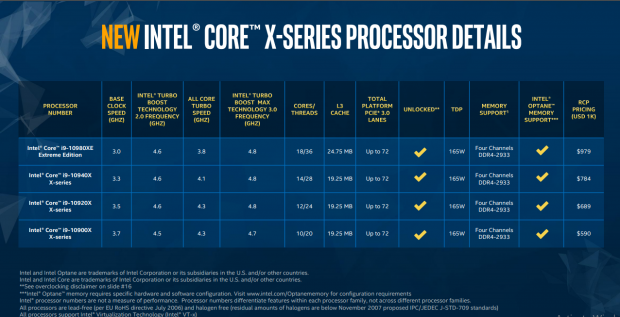 Cache sizes remain the same as do TDPs. Maximum supported memory was doubled from 128GB to 256GB, Intel's Deep Learning ISA (improved AVX extensions) was added, memory frequency is increased to 2933MHz, and the SKUs all get 4 extra PCI-E 3.0 lanes in the CPU. While the CPUs are compatible with all X299 motherboards that have BIOS updates to support them, only newer motherboards that are designed for Cascade Lake-X will be able to utilize the extra four PCI-E lanes.
The CPUs are also supported by Intel's Performance Maximizer, and will support Wi-Fi 6 and Intel's new 2.5G controller. While Intel can't control how retailers price the CPUs, we hope that the market will equalize pricing so it's closer to the suggested retail price Intel puts out rather than an inflated one.