AORUS CV27Q Tactical Gaming Monitor: 1440p 165Hz G-Sync & FreeSync
AORUS CV27Q Tactical Gaming Monitor offers 27-inch 1440p 165Hz 1ms.

Published Thu, Sep 12 2019 7:42 PM CDT
|
Updated Tue, Nov 3 2020 11:47 AM CST
GIGABYTE has just released its new AORUS CV27Q Tactical Gaming Monitor, if you couldn't already tell from the name its their new gaming display.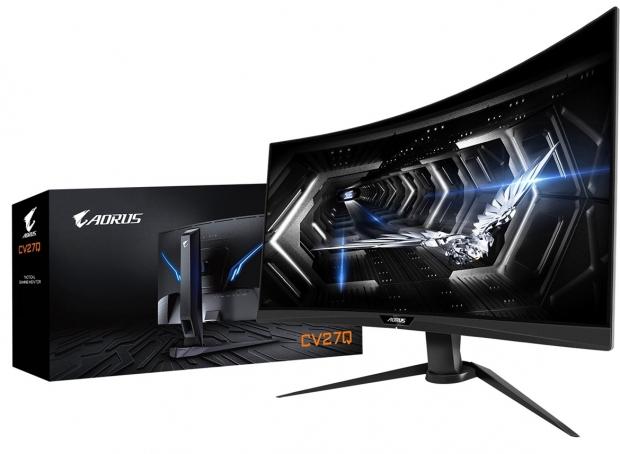 The new AORUS CV27Q features a 27-inch 1500R curved 8-bit VA panel offering 2560 x 1440 at 165Hz with a 1ms response time, with GIGABYTE adding that it covers 95% of the DCI-P3 color space.
One of the big bonuses here with the AORUS CV27Q Tactical Gaming Monitor is that you have AMD FreeSync HDR technology, but it is also NVIDIA G-SYNC compatible. This means you can have an NVIDIA GeForce or AMD Radeon series graphics card and still tap the adaptive refresh tech in the AORUS CV27Q.
GIGABYTE is including its own "secret sauce" in the new AORUS CV27Q in its Black Equalizer 2.0 technology, something that divides the screen into 1296 sub areas and equalizes each sub area individually. This means you'll get beautiful black areas, all without overexposing the bright areas.
This feature is not so much for gaming... but more for the entertainment side of things with movies, Netflix, YouTube, and the like.
We also have some great Active Noise Cancelling (ANC) technology here, with GIGABYTE using its exclusive IC design with a microphone array that will see ambient noise lower -- a big benefit to your team mates in a game. The new ANC 2.0 has 120 dB SNR and supports high impedance headphones at up to 600 ohms.
GIGABYTE will be selling its new AORUS CV27Q Tactical Gaming Monitor for $459.99 and will go on sale later this year.
Related Tags