Gears 5 PC spec recommendations are pretty lax: GTX 970, Intel i5 CPU
Gears of War 5 won't be too demanding on PC, recommended specs aren't very high.

Published Tue, Aug 20 2019 2:20 PM CDT
|
Updated Tue, Nov 3 2020 11:47 AM CST
Gamescom 2019 - Want to play Gears of War 5 on PC? You can skate by with an older rig.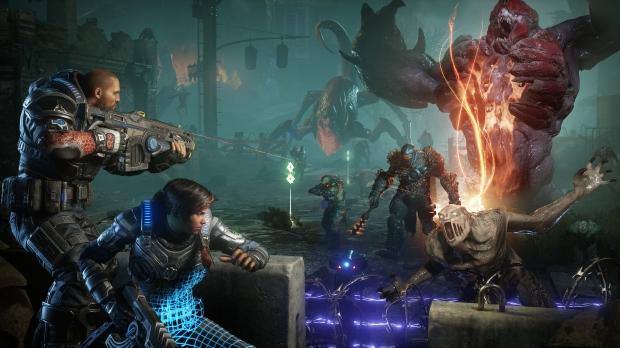 Microsoft definitely wants its games to be played by as many people as possible, and that means flexibility. The Coalition has scaled Gears of War 5 across a myriad of PC hardware configurations, including older setups. Minimum specs sit at an Intel i3 Skylake/AMD FX-6000 series or equivalent, a GeForce GTX 760 or Radeon R9 280 with at least 2GB VRAM, and 8GB RAM. Expect 720p resolution or thereabouts at lowish settings. The game also clocks in at 80GB of hard drive space.
The recommended specs are likewise flexible. For performance around the 1080p 60FPS mark with marginal settings, Gears 5 needs an Intel Core i5 Skylake (assuming i5-6400 to i5-6600K are included), a GeForce GTX 970 or Radeon RX 570 with 4GB of VRAM, and 8GB of RAM. Again we don't know the perf The Coalition is targeting with this spec, but expect this to be 1080p optimized.
For 4K gaming and higher FPS with max/ultra settings, the dial gets bumped up a notch. The devs' "Ideal" requirements call for an Intel i7 Skylake or Ryzen 7 CPU, a GeForce RTX 2080 or Radeon VII GPU with 8GB of VRAM, 16GB of system memory, and 100GB of free storage space in tandem with an SSD.
Gears of War 5 releases September 10, 2019 on PS4, Xbox One, and Steam and the Xbox Store on PC. Buying from the Xbox Store nets you Play Anywhere on PC and Xbox, whereas buying from Steam locks the game exclusively to PC. It's also coming to Xbox Game Pass.
Minimum Specs
OS: Windows 10 May 2019 update
CPU: Intel i3 Skylake, AMD FX-6000 series
GPU: GeForce GTX 760, or GTX 1050. Radeon R9 280, or RX 560
VRAM: 2GB
RAM: 8GB
HDD: 80GB free
Recommended Specs
OS: Windows 10 May 2019 update
CPU: Intel i5 Skylake, or AMD Ryzen 3
GPU: GeForce GTX 970, or GTX 1660 Ti. Radeon RX 570, or RX 5700
VRAM: 4GB
RAM: 8GB
HDD: 80GB free
Ideal Specs
OS: Windows 10 May 2019 update
CPU: Intel i7 Skylake, or AMD Ryzen 7
GPU: GeForce RTX 2080, or AMD Radeon 7
VRAM: 8GB
RAM: 16GB
HDD: SSD + 100GB free
Related Tags