Call of Duty is still an annual franchise, Activision says
Call of Duty's rigorous yearly cadence should still continue.

Published Aug 9, 2019 1:19 PM CDT
|
Updated Tue, Nov 3 2020 11:47 AM CST
A new Call of Duty game will still release every year, Activision asserts.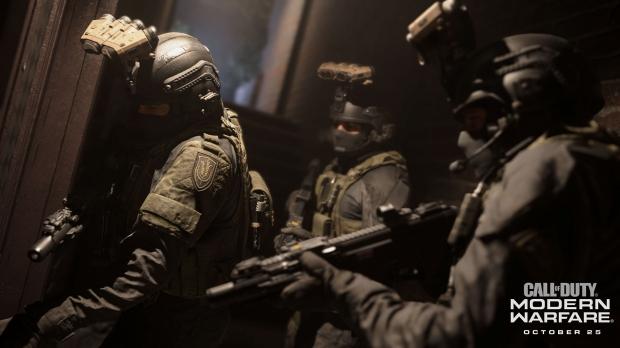 Every year gamers can expect the same things: new FIFA, NBA 2K, Madden, and Call of Duty games to name a few. That won't change any time soon. Despite the high cost of rolling out huge sprawling FPS games every year, Activision shows no signs of slowing Call of Duty's annual release cadence. In fact, they're doubling-down on key franchises like Call of Duty, accelerating development tools, worker headcount, and robust live service roadmaps. Activision knows CoD is a cash crop and is planting lots of seeds.
In its recent Fiscal Year Q2'2019 earnings call, Activision strongly hinted that Call of Duty won't slow down after the new Modern Warfare reboot. We shouldn't see Call of Duty take a year off or skip 2020 (Black Ops 5 is set for 2020, reports say).
Despite its heavy investment into live services, Activision isn't ready for Modern Warfare to last 2 years or so. Releasing a new game is more sales revenue outright and gives the publisher and opportunity to sell a gateway to even more monetized engagement-driven online multiplayer.
"We do still see new launches as a critical part of our future," said Activision-Blizzard CEO Bobby Kotick.
"These new releases are, have been, and continue to be a huge engagement drivers for our community because they bring a robust set of new experiences to our fans. So that said, obviously we want to also build player engagement here over time as well. We're very committed on this front. You're going to start seeing that in a few ways, first with Modern Warfare."
This comes at an interesting time when Call of Duty essentially lost one of its biggest teams, Sledgehammer Games. In the past, Call of Duty games were handed off to three studios: Infinity Ward, Treyarch, and Sledgehammer. Now Sledgehammer has been relegated to a support team rather than a core pillar of the triumvirate--instead of making CoD 2020 as planned, they're helping Treyarch with the Cold War-based Black Ops 5.
Despite this potential loss, Activision shows no signs of slowing down with Call of Duty.
(Continued below)
Read Also: All future Call of Duty games should have cross-play
Activision Chief Operating Officer Coddy Johnson reinforces the company's thought process on mainline releases and sequels, especially in the Call of Duty franchise.
"We do see across many of our franchises major upfront launches as a very effective and important way to refresh the franchise, to drive innovation, to reach out to new players, to expand the community and so in the resources there are putting into our franchises."
Every new chapter will be complimented with a more ingrained and heavy-handed online framework. The idea is to sell the game for a fixed cost, then monetize gamers over time with optional skins and content set across repeatable online modes.
Modern Warfare will also introduce cross-play, a massive new potent weapon that Activision will use in all of its future Call of Duty games.
So it's not just big annual games that're important, but the content that comes after via live services. Both of these pieces are critical for Activision's billion-dollar yearly earnings. Armed with cross-play and a new kind of unified cross-platform network of community, progression, and interactivity, the company should see big growth in its digital empire throughout 2019 and beyond.
Related Tags