Modern Warfare supports mouse and keyboard on consoles
Modern Warfare will let gamers choose to play against controller or KB&M users.

Published Wed, Aug 21 2019 10:04 AM CDT
|
Updated Tue, Nov 3 2020 11:47 AM CST
Modern Warfare will support mouse and keyboard play on PS4 and Xbox One for enhanced competitive edges.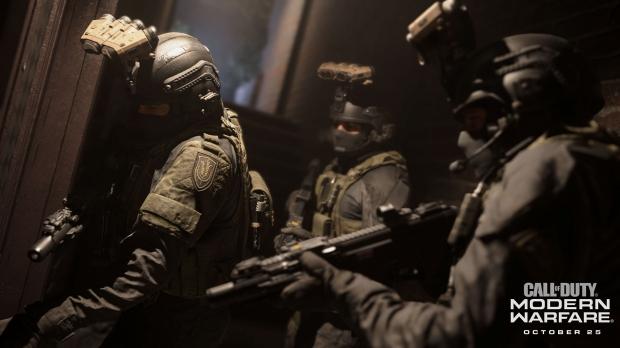 Consoles have always technically supported mouse and keyboard controls, but it's up to the developers to use them in-game. Early examples include Final Fantasy XIV on PS4. But Modern Warfare will leverage this to a different degree on consoles, this time allowing tighter aiming and control thanks to enhanced KB&M precision. Modern Warfare dev Joe Cecot confirmed the news while talking about cross-play and balancing console controller play against high DPI mouse users on PC.
Cecot says console gamers can choose whether they want to play against other controller users or keyboard-and-mouse users on PC. Controller players can also choose to play against KB&M on consoles, too. Keyboard and mouse controls will be fully supported in all of Modern Warfare's multiplayer and singleplayer modes, including the small 2v2 Gunfight to the huge 100-player Ground War gametype. The aim is to avoid the tremendous competitive advantage that high sensitivity mice offer for aiming in FPS games.
"One of the main ways is that we are planning on matchmaking based on peripheral. We're also supporting different peripherals, so if you want to plug a keyboard and mouse into your PS4, you can."
But should you play KB&M on consoles? Surprising the PS4 and Xbox One have a range of good options. HORI's Tac Pro 2 PS4 KB&M is specifically built for first-person shooters like Modern Warfare, complete with DPI customization, a small pad for WASD movement control, and sensitivity/save profiles. The Xbox One also supports a host of Razer peripherals including the Razer Turret.
We'd definitely like to test some of these out once Modern Warfare rolls out and see what peripherals are compatible on both the PS4 and Xbox One.
Modern Warfare releases October 25 on PS4, Xbox One and PC.
Related Tags