New Switch likely uses 16nm Tegra X1 T214 chip
Nintendo's new Switch revision might use a Tegra X1 T214 chip, but don't expect huge performance gains.
Published Aug 6, 2019 4:54 PM CDT
|
Updated Tue, Nov 3 2020 11:47 AM CST
2 minutes & 14 seconds read time
Nintendo's new Switch revision may feature a Tegra X1 T214 chip based on 16nm FinFET, offering more efficient thermals and battery life.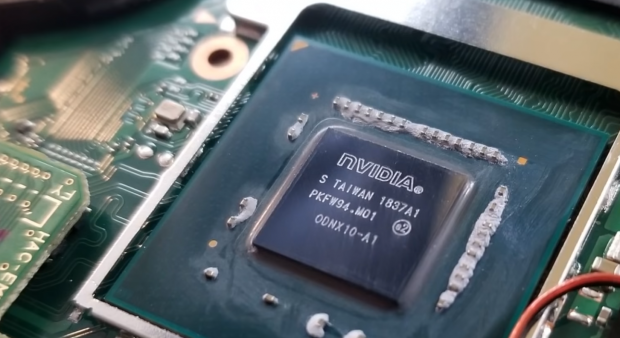 Nintendo is quietly replacing the original 2017 launch Switch models with a slightly improved new SKU. New photos from Spawn Wave show the revised 2019 Switch might sport a shrunken 16nm Tegra SoC and is designated A1, which indicates slight CPU stepping (revised performance to reduce bugs, in this case it'd be the security flaw that led to hacked Switches).
The A1 moniker aligns with the datamined Mariko firmware which indicates a Tegra X1 T214 chip on 16nm. The original 2017 Switch uses a Tegra X1 T210 chip. No performance bumps should be expected--the T214 is a small bump over the T210--and the new revised Switch should only bring two small tweaks: improved battery life (up to 9 hours versus the 2017 model's 7.5 hours) and a hardware security patch to thwart hacking.
Technically the Tegra T214 chip can support up to 8GB LPDDR4 RAM and boosts GPU clocks by 26.7% to 1267MHz, but remember the Switch uses a customized NVIDIA Tegra chip and not the stock version. We shouldn't expect to see the new model outperform the 2017 model. Sure it'd be nice for new gamers to have that extra GPU speed, especially for huge games like The Witcher 3 on the Switch that make big compromises, but Nintendo would alienate original owners with such a move.
The Switch 2.0 also has the same 4GB of internal RAM as its forebear and doesn't take advantage of the 214's 8GB compatibility.
The Switch 2.0 isn't publicized as the rumored Switch Pro and won't have higher-end performance despite the newer chip--if anything, the T214 is likely scaled down to fit more closely with the original T210 chip.
So what does this mean? Basically Nintendo and NVIDIA upgraded the internal SoC specifically for the handheld-only Switch Lite, and then decided to pop it into a new revised Switch. The idea is to improve battery life to keep users playing for as long as possible, and shore up the huge hardware-based security exploit found on the Tegra X2 T210 chip.
Just don't expect to get a marginally better Switch if you buy the 2019 model. You'll just get one that can't be hacked, and one that has boosted battery life. It all depends on what you want to do with it.
Related Tags