AMD X590 chipset: more PCIe 4.0 lanes, better overclocking
AMD's new X590 chipset would feature even more PCIe 4.0 lanes, support premium Ryzen 3000 CPUs.

Published Sun, Jun 16 2019 12:21 AM CDT
|
Updated Tue, Nov 3 2020 11:48 AM CST
AMD is at least 12-18 months ahead of Intel when it comes to having PCIe 4.0 connectivity on its new X570 chipset, but now we're hearing the first rumbles of the higher-end X590 chipset and it sounds like a monster.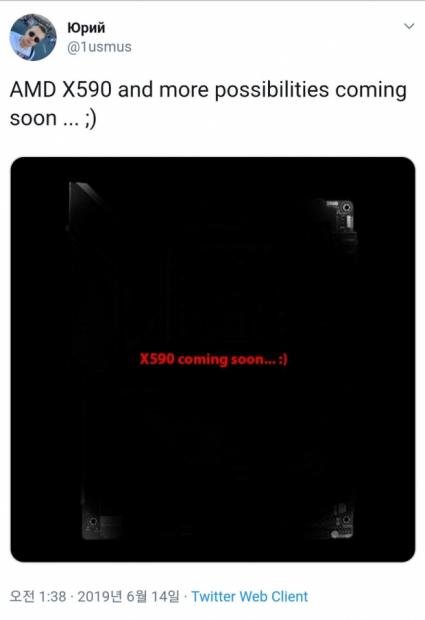 DRAM Calculator for Ryzen creator '1usmus' shared the teaser of an upcoming ASUS ROG motherboard that teases "X590 Coming Soon". The tweet was removed, but we now know of the existence of the X590 chipset which has us excited, especially when we consider what it will bring to the table above the already great X570 chipset.
There are a few things that the purported X590 chipset could bring -- such as more PCIe 4.0 lanes, and higher-end motherboards that support even higher CPU clock speeds by default. This makes sense as we are looking at a world with the Ryzen 9 3950X (16C/32T) with huge clock speeds out of the box.
It was a single tweet, so we can't put too much faith into it for now... so we'll keep you updated on all things X590 as they happen.
Related Tags