Watch Dogs: Legion lets you play as a grandma assassin
Watch Dogs Legion lets you recruit anyone in London, even 75 year-old grandmas.

Published Mon, Jun 10 2019 3:24 PM CDT
|
Updated Tue, Nov 3 2020 11:48 AM CST
Watch Dogs: Legion lets you swap between multiple characters you recruit throughout the world, even unsuspecting innocent grandmas.
E3 2019 - Today Ubisoft announced Watch Dogs: Legion, the sequel set in a high-tech London filled with crime, drones, and tons of surveillance. The main selling point of Legion is its lack of a pivotal character: instead of one main protagonist, Legion lets you switch between a bunch of different characters on-the-fly. Everyone in London is a potential DedSec rebel-even old British ladies.
The gameplay footage showed that even a 75 year old grandma can be a badass hacker assassin. We saw the deadliest DedSec granny blast enemies with a huge handgun, zap them with a taser, and dish out some serious hurt. "In Watch dogs Legion, you can recruit and play as anyone. In our game, every Londoner is fully simulated, with persistent lives and habits, and anyone can be recruited. All are unique characters with backstories and skills," Ubisoft said on stage.
Watch Dogs Legion releases March 6, 2020 on PS4, Xbox One and PC.
Check below for a ton of info about the game:
In the near future, London is facing its downfall: the people are being oppressed by an all-seeing surveillance state, private militaries control the streets, and a powerful crime syndicate is preying on the vulnerable. The fate of London lies with you, and your ability to recruit a resistance and fight back."

TAKE BACK LONDON

SHOW THE CITY WHAT YOU'VE GOT.

Explore a massive urban open world and visit London's many famous landmarks - including Trafalgar Square, Big Ben, Tower Bridge, Camden, Piccadilly Circus, or the London Eye.

PLAY YOUR WAY

FIGHT FOR THE FUTURE.

A brand-new melee system and a wide range of weapons and abilities means that the way you approach combat has real consequences. If you use non-lethal force, the enemy will attempt to subdue and arrest you. If you shoot to kill, you risk having your characters permanently killed.

GET THE GANG TOGETHER

BRING YOUR FRIENDS INTO THE MESS.

Giving London back to the people doesn't have to be some heroic solo jaunt, ya know. Bring the fight online to join forces with up to three friends as you take on entirely new co-op missions and challenging end-game content.

PLAY AS ANYONE

RECRUIT YOUR RESISTANCE FROM LONDON'S POPULATION.

Every Londoner has a unique backstory with a special skillset and a distinctive personality. Recruit anyone from an MI6 agent to an illegal street-racer and customize them with killer outfits and iconic masks.

RECRUIT ANY CHARACTER

FIGHT BACK WITH ALL OF LONDON.

Anyone you see on the street can become a resistance fighter by your side. Each person you encounter - whether a brawler, a fashionista, or even a DJ - has their own story with their own set of skills and perks. Choose wisely. You only get one shot at rebellion.

PLAY YOUR WAY

YOUR RECRUITS. YOUR RULES.

Everything is up to you - who joins your resistance, what missions you take on, where you pick fights; all of it - as long as it gets London back in the hands of the people. Make critical decisions and ultimately hack, infiltrate, and detonate your way to a liberated London.

CUSTOMIZE YOUR RECRUITS

MAKE YOUR HEROES YOUR OWN.

Personalize each member of your resistance and level them up by building out different skill sets, from hacking to stealth moves to all-out assault training. Customize further with unique outfits and iconic masks. Take back the city and look sharp doing it.

HACK INTO LONDON'S TECH

CONTROL DRONES. DEPLOY BOTS. BLOW IT ALL UP.

Hack your way to victory by weaponizing London's tech infrastructure. Hijack armed combat drones, deploy stealthy spider-bots, or use your techie know-how to rig the system with explosions. It's up to you how to use the tech dystopia against itself.

GO IN GUNS BLAZING

LONDONERS HAVE BEEN WEAPONIZED.

Your plan of attack is up to you. Crash the party with a brand-new melee system and a wide range of weapons and abilities. Go non-lethal if you'd like, or kick open the doors and blast away. Just remember, your assault style brings different consequences.

THEY CAN'T ARREST WHAT THEY CAN'T SEE

USE AR TO GO INVISIBLE.

As fun as it is to crash through a skylight, there's not always a need to be noticed. Use the resistance's most secretive hack - an "invisibility" cloak. Thanks to the advances of augmented reality, you can sneak around without detection and covertly take down your enemies.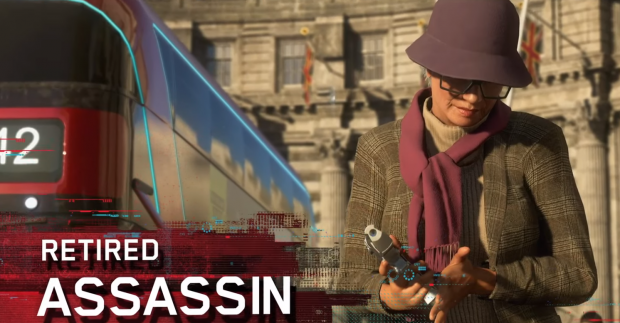 Related Tags