Google Stadia will sell games a la carte
Some Stadia games have to be purchased separately outside of a subscription.
Published
2 minutes & 27 seconds read time
Google's new Stadia game streaming platform will sell games a la carte as well as bundle them into its monthly pro subscriptions.
Today Google revealed more info on its Stadia cloud-powered streaming service, and the company is taking big queues from Microsoft's Game Pass-Xbox Store synergy.
There's two subscription options: a free version that requires gamers buy big AAA games like Destiny 2, Borderlands 3, and Ghost Recon: Breakpoint separately like any other storefront, and Stadia Pro, a $10 a month tier that nets you access to a pool of premium games that're added over time. Google only announced Destiny 2 as part of the Stadia Pro service, so we'll still have to buy games outright (but subscribers will get a discount).
The obvious drawback to buying games on an online-only service is that you lose access to them if there's any interruptions--or if you lose your connection. A lot of the bigger games are service-based online titles but some like Metro Exodus and Assassin's Creed: Odyssey are purely singleplayer.
Games pricing will be the big determining factor here.
The company's synergistic intent is clear. Google is hoping gamers will try Stadia Pro and then buy the games they actually like once their subscription ends. This is the Game Pass Effect, and it's made Microsoft tremendous revenues over time. Oddly enough the free version of Stadia won't be available until 2020, which is a huge blow to the platform's main goal of accessibility. Stadia Pro will release in late 2019.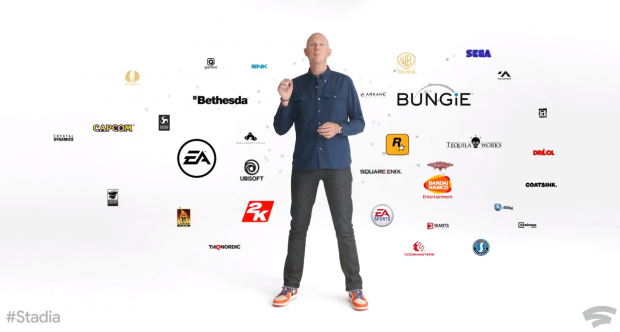 "No downloads, no patches, no installs--just grab you controller and jump in."
The company also announced a wave of big titles coming to Stadia from the industry's best publishers, including The Division 2, The Elder Scrolls Online, Mortal Kombat, Baldur's Gate 3 (yes, it's happening!), RAGE 2, Metro Exodus, Assassin's Creed: Odyssey and Final Fantasy XV.
The following games were announced for Stadia at launch:
Stadia Launch Games
Baldur's Gate 3

Borderlands 3

Ghost Recon: Breakpoint

Gylt

Get Packed

The Division 2

The Crew 2

GRID

FM

Power Rangers: Battle for the Grid

Mortal Kombat 11

Farming Simulator 19

The Elder Scrolls Online

Darksiders: Genesis

Trials Rising

Wolfenstein: The New Order

Just Dance

Thumper

Shadow of the Tomb Raider

Dragonball Xenoverse 2

Final Fantasy XV

RAGE 2

Samurai Showdown

Metro Exodus

Assassin's Creed: Odyssey
Stadia is expected to launch "later this year" across 14 countries
Check below for pricing information:
Stadia Pro: $10 a month
Three months included in Founder's Edition.

Part of Founder's Edition

Resolution: Up to 4K

Frame rate: 60 FPS

Sound: 5.1 surround sound

Buy games whenever you want: Yes

Additional free games released regularly: Yes, starting with Destiny 2: The Collection

Stadia Pro-exclusive discounts on select game purchases: Yes

$9.99 / mo
Stadia Base: FREE
Coming next year

Resolution: Up to 1080p

Frame rate: 60 FPS

Sound: Stereo

Buy games whenever you want: Yes

Additional free games released regularly: No

Stadia Pro-exclusive discounts on select game purchases: No

Free
Stadia Founder's Edition $129
First access to Stadia

Chromecast Ultra

Limited Edition Stadia controller

3 months of Stadia Pro access + 3 months of friend access

Full Destiny 2 experience
Related Tags