Seagate cranks it up to 16TB with IronWolf and Exos Series
Seagate Increases Capacities to 16TB in Three Popular Lines.
Published Tue, Jun 4 2019 9:30 AM CDT
|
Updated Tue, Nov 3 2020 11:48 AM CST
Seagate just announced three to models to the popular Guardian Series. The Exos, IronWolf, and IronWolf Pro lines now scale to 16TB with the help of Helium and a new 9-platter design.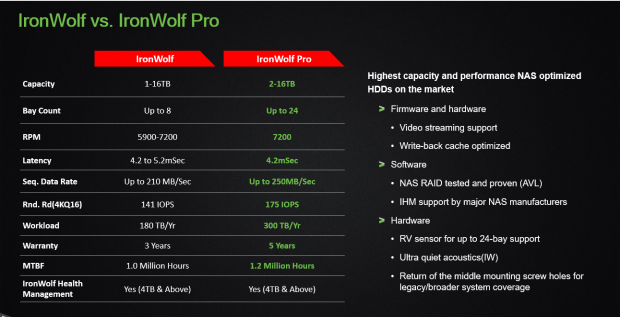 On paper, the new 16TB variants show identical performance to the 14TB and 12TB models previously released. We expect to see some performance variation in testing . That should start as early as this week with reviews to follow soon after.
The biggest change, besides capacity, comes to the IronWolf Pro product line. With previous models, Seagate recommended the IronWolf Pro for systems with up to 16 HDDs. With the new 16TB model, Seagate now recommends the series for systems with up to 24 drives. Seagate still recommends the IronWolf for systems with up to 8 drive bays.
The premium Exos X16 hyperscale HDD handles larger deployments with increased endurance and unlimited rack density. The new Exos X16 provides 33% more petabytes per rack compared to the 12TB model (the Exos X14 was a limited release).
Exos X16 ships in five separate product SKUs. The two SATA models feature the standard FastFormat (512e/4Kn) and the second features SED encryption. The same two products exist in the SAS line but Seagate also adds a SED-FIPS encryption model.
The two IronWolf 16TB drive already appear on Amazon. The base IronWolf 16TB sells for $579.99 and the advanced IronWolf Pro 16TB sells for $629.99.
Related Tags