Most of the time artificial intelligence is brought up one of the main questions raised is how badly will the implementation of artificial intelligence in jobs be, and how many peoples jobs will be made redundant. Perhaps artificial intelligence if further along than we think and some serious amount of jobs could be at risk.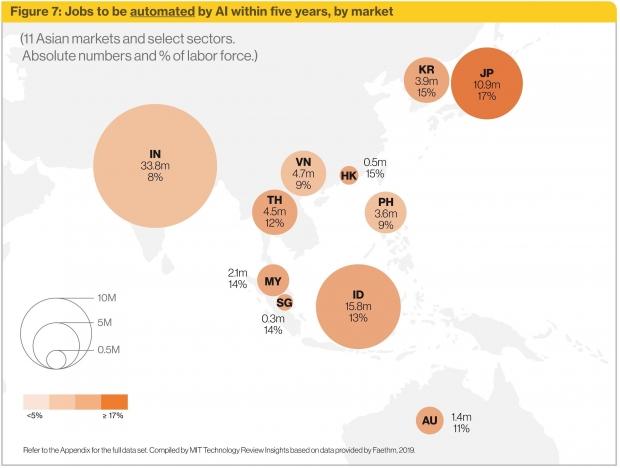 A new study has come out of MIT Technology Review Insights which has conducted the study in association with ADP, Infocomm Media Development Authority of Singapore, Genesys, Splunk and the Asia School of Business. The study features a executive survey of 900 leaders as well as "data set provided by Faethm, a future-of-work cloud software company, the report shows, by country and industry, the proportion of formal sector jobs that will become redundant through automation, and the jobs that will be augmented by AI, making them more productive and highly skilled".
The study says that "AI will affect one in five jobs in Asia-eliminating one in eight" and that across 11 Asian markets, 12% of current jobs are in the "high-risk" of being automated in the "next five years". The AI effect on jobs are said to be more prominent in the more wealthier economies than the poorer ones. Percentage separation clocks in at 14% in wealthier communities, and 10% in poorer ones.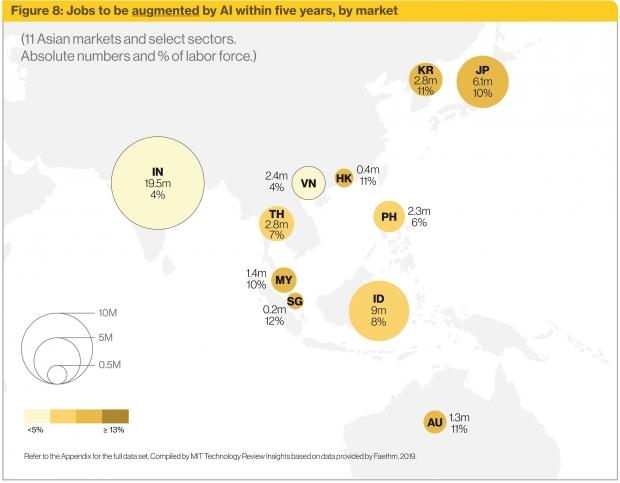 Claire Beatty, the editor of the report says that "Our research shows that many industries across the region will see rapid automation and the loss of jobs. "In developed economies we're likely to see re-skilling and redeployment. In developing markets, much more systematic planning and preparation is needed."
Overall, it is hard to say how artificial intelligence will effect the job market due to how different every job is and how markets are ever evolving. From these findings we can summarize that the effects will be much more noticeable in the higher income workplaces, and less in the developing lower income markets.