Roadmaps are a big thing right now in gaming, but they're usually reserved for online games that divvy out digestible chunks over time to keep gamers playing. Very seldom do we see them for singleplayer-only games like RAGE 2.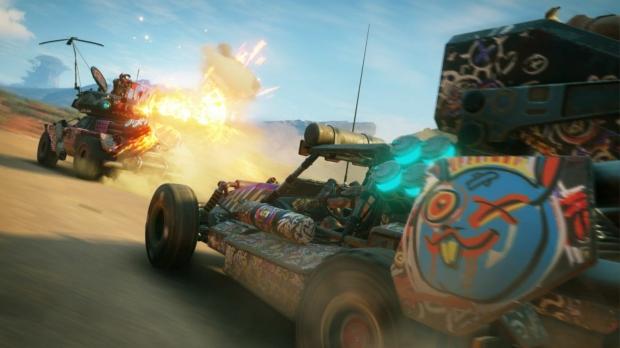 Having failed to capture the live service market with Fallout 76, Bethesda is eager to change things up a bit. The publisher is using RAGE 2 as a means of combining both singleplayer gaming with online content similar to Ubisoft's strategy with recent Assassin's Creed games. As we've said before, RAGE 2 is a live game without multiplayer and keeps gamers static in their own controlled sessions while id evolves the game with updates. This could be a huge drawback as co-op play would spark engagement, which could then be monetized accordingly.
In a recent roadmap update--because every game needs a roadmap these days--id and Bethesda outlined how RAGE 2 will evolve over time. The cadence of free updates is quite slow compared to most service games that must rapidly expand weekly or even monthly, and shouldn't lead to an ever-shifting world.
Right now RAGE 2 will have a single new world event every month that drops in enemies and objectives across the map, new challenges to unlock gear and content, weapon skins, and a singular update planned 30 days after launch. This plan could accelerate or peter out depending on the game's sales performance.
All of this is free, but Bethesda will release some paid content too.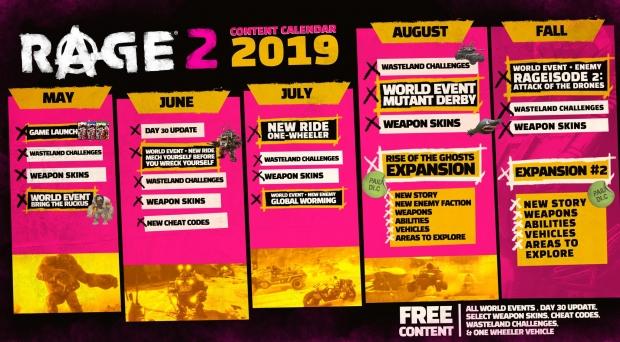 RAGE 2 will have two big paid expansions, but only one of them is included in the $80 version, hinting they'll be pretty big. Usually a game's deluxe variant comes with a season pass that unlocks extra content over time. Based on this pricing the first expansion is $20 alone.
The first expansion, Rise of the Ghosts, comes out in August. The next expansion hasn't been named yet and is slated to release in the Fall.
From what we can tell there's been no mention of microtransactions yet, so they might not be in the game. At the same time id is throwing in skins so it's possible RAGE 2 could have cosmetic monetization as well as paid DLC macro-monetization.
In theory this live structure sounds pretty rad. I like the idea of my favorite singleplayer games getting tweaks and updates over time.
But from what we've seen on RAGE 2, the game is a weird Frankenstein mixture of engagement-building tactics and elongated play mechanisms. It looks like an Ubisoft game with just way too much stuff to do.
In short, RAGE 2 looks like it features way too much stuff for its own good. The areas are absolutely huge and open-ended, and there's lots of crafting, unlockables, materials, and things to uncover. None of that sounds like a bad thing, per say, but it could get overwhelming and break up the rhythm when you put these elements into a game with fluid, fast-paced chaotic FPS elements.
RAGE 2 launches on May 14 on PS4, Xbox One and PC.