AMD powers world's largest, most expensive supercomputer
Frontier will use next-next-gen EPYC CPU and GPUs post-Navi and post-Zen 2 from AMD.
Published
1 minute & 44 seconds read time
AMD has just scored a gigantic deal in that the company will power the next-gen fastest and most expensive supercomputer in the world, with the US Department of Energy buying a new AMD-powered custom supercomputer built by Cray called Frontier.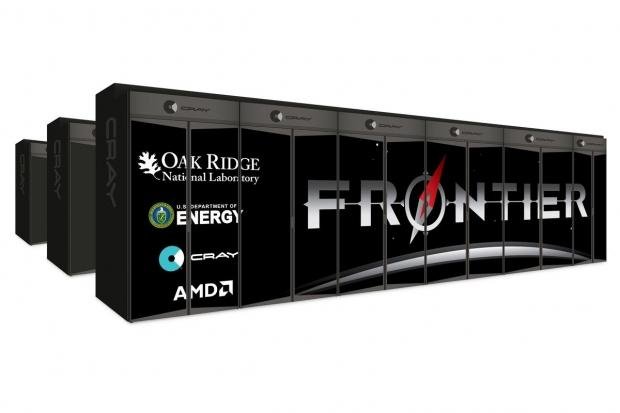 Frontier will come online in 2021 and is powered with super-fast EPYC processors and Radeon Instinct accelerators that will pump out an astonishing and record-breaking 1.5 exaflops of processing power. The system will be used for various tasks which will include performing advanced calculations in nuclear and climate research, simulating quantum computers, nuclear reactors, and more.
The new system will be delivered in late 2021 and turned on and cranking along in 2022 for the Oak Ridge National Laboratory in Tennessee. AMD has some huge bragging rights here as Frontier has as much processing power as the 160 fastest supercomputers combined -- yeah, combined.
The Department of Energy has allowed 30 megawatts of power, with Frontier to use pretty much all of it. Inside, we'll see an abundance of EPYC processors with 4 x Radeon Instinct GPUs each. All of it is connected through AMD's own Infinity Fabric inside of Cray-made Shasta cabinets with 100 of them installed and each using 300kW of power, combined using 30MW of power.
The EPYC processors in question are not the current first- or even upcoming second-gen 'Rome' CPUs, but rather next-gen Zen cores. We are probably looking at Zen 3 or Zen 4, where we could see the world of 128C/256T if things got crazy enough on 5nm or 6nm. The GPU in question is the same, as it'll be a post-GCN GPU that will be coming next year, so expect something very new in both the CPU and GPU inside of Frontier from AMD.
Patrick Moorhead, Founder, President and Principal Analyst of Moors Insights & Strategy reached out to me about the new Frontier supercomputer, where he said: "The Frontier supercomputer win is a big deal for AMD for many reasons. It has been years since AMD was inside the #1 supercomputer, all the back to the Opteron days. With Frontier, not only are EPYC CPUs involved, but Radeon Instinct GPUs, too. I believe the DOE chose AMD for three reasons:
Performance of the CPU and GPU piece-parts

The combined platform performance of CPU plus GPU enabled via Infinity Fabric

Semi-custom silicon capabilities evident with Microsoft and Sony engagements

".
Related Tags