NVIDIA stops making non-A die Turing for RTX 2080, RTX 2070
NVIDIA will now only make higher-quality A-dies of TU104-410 and TU106-410 for GeForce RTX 2080 and RTX 2070.

Published Sun, May 5 2019 11:37 PM CDT
|
Updated Tue, Nov 3 2020 11:48 AM CST
When the first Turing GPUs were being made NVIDIA split the silicon into two camps: higher-quality Turing A-dies for higher-end custom overclocked GeForce RTX 2080 and RTX 2070 cards, while non-overclocked more stock cards had the non-A die silicon.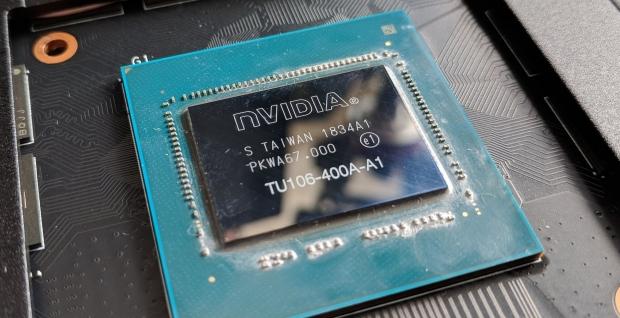 Tom's Hardware Germany boss Igor Wallossek reports that NVIDIA will stop making the non-A die silicon, and from here on out only produce A-dies of the Turing TU104-410 (RTX 2080) and TU106-410 (RTX 2070). This means that from here on out NVIDIA will only supply AIBs with the higher-quality A-die silicon meaning we could see a new wave of RTX 2070 and RTX 2080s with higher OC ceilings.
We should at least see an across the board increase in base and boost GPU clock speeds on the next wave of RTX 2070 and RTX 2080s that could lead the higher-end custom cards to have access to higher GPU clocks with a few tweaks to the voltage limits NVIDIA has in place. If they untightened those a bit NVID IA could have higher-end RTX 2070 and 2080s that better compete with what AMD has coming around the corner with rumored Radeon RX 3080 XT rumored for $339, a far cry from the starting price of $599 for the GeForce RTX 2070.
Related Tags