AMD's new Radeon RX 3080 XT: RTX 2070 performance for $330?!
AMD's new Navi-based Radeon cards launch at E3 2019 with a tease of the Radeon RX 3080 XT for $330 and RTX 2070 perf.

Published Sun, May 5 2019 8:27 PM CDT
|
Updated Tue, Nov 3 2020 11:48 AM CST
Hot on the heels of the purported Radeon RX 3090 XT flagship Navi graphics card rumors, were some specs on the Navi 10-based graphics cards that we WILL see launched at E3 2019.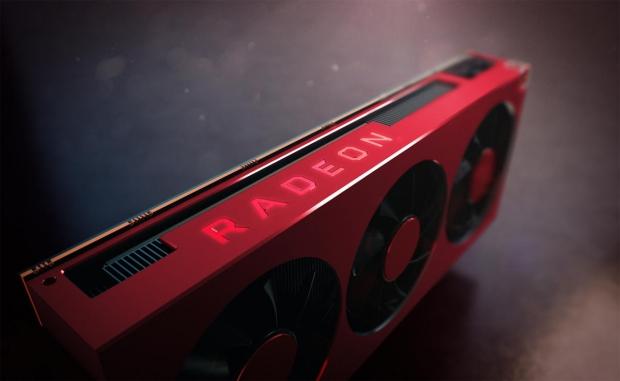 AMD is reportedly getting the Radeon RX 3080 XT ready for E3 2019 with its Navi 10 GPU on the 7nm node, with what should be 8GB of GDDR6 memory. The Navi 10 GPU will, according to the new leaks, feature 56 compute units from the Navi 10 GPU on a 190W TDP and provide performance close to NVIDIA's Turing-based GeForce RTX 2070. All of this will reportedly launch for $330 which would be a game changer.
NVIDIA sells its GeForce RTX 2070 graphics card for $599 which would mean if the rumors are true and the purported Radeon RX 3080 XT does indeed sell for $330 and has the performance of the RTX 2070, NVIDIA wouldn't be in trouble but it will have to react with massive price drops.
I kind of like this and I think the 3000-series marketing could work very positively for the company if they come out of the gate and sell it like this and start the relationship back up with PC gamers since RTG has been virtually silent since most of the core team left, most of them joining Intel's new discrete graphics team led by ex-RTG Raja Koduri and Chris Hook.
Related Tags