Acer reveals 43-inch 4K 144Hz monitor with AdaptiveSync tech
Acer's new Predator CG437KP is a 43-inch 4K 144Hz gaming monitor.

Published Apr 12, 2019 10:29 PM CDT
|
Updated Tue, Nov 3 2020 11:48 AM CST
I've long said that there is a big problem between the super-high-res, super-high-refresh rate displays because right now there's only a 27-inch 4K 144Hz and then the next size up from that sees you plonking down thousands on an NVIDIA-powered Big Format Gaming Display (BFGD).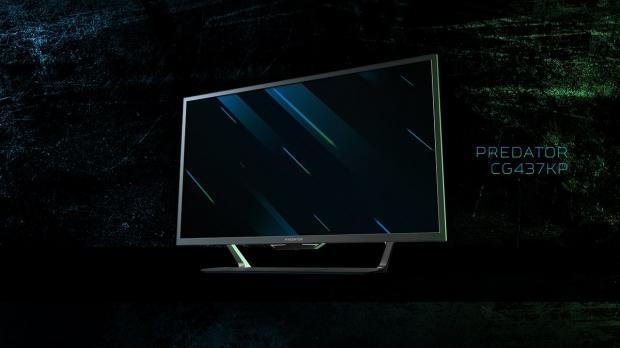 Well, that all changes today with Acer announcing the next wave of its gaming-focused Predator monitors. The newly-announced Acer Predator CG437KP is a large 43-inch monitor with a native 4K resolution and super-fast 144Hz refresh rate, but it's also compatible with AdaptiveSync technology for the PC.
As for connectivity we have 3 x HDMI ports, USB Type-C, and DisplayPort. Acer has also used a built-in sensor that automatically adjusts the brightness of the display depending on the light level in the room. Acer has also used a proximity sensor that will wave up the Predator gaming display when you walk away from it, and then wake it up when it detects you back in front of the display.
Coming in at a large 43-inch display you will comforted to know that Acer bundles in a remote control with the Predator CG437KP.
As for price, we're looking at it starting at $1299 when it debuts in China first in August, or $1299 when it debuts in the US, Europe, Middle East and Africa in September.
I can tell you one thing: this is my future gaming display. Right now I'm using the Acer Predator X27 which is a 27-inch 4K 144Hz G-Sync HDR monitor and while it is an absolutely gorgeous display, 27 inches is far, far too small. 43 inches on the other hand? Gosh yes.
Related Tags