VR comes to Nintendo's biggest games
Nintendo's biggest Switch games get VR functionality, opening up exciting new doors.

Published Fri, Apr 5 2019 4:31 PM CDT
|
Updated Tue, Nov 3 2020 11:48 AM CST
Nintendo's new Switch-powered VR headset will interact with some of its best-selling games.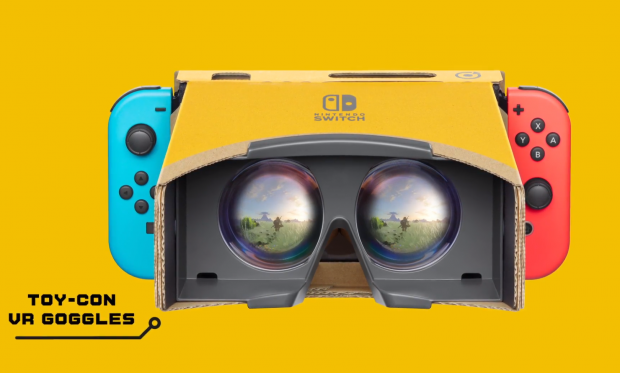 VR is coming to the Nintendo Switch, but not in the way you think. Rather than take on competitors like Oculus or HTC with a dedicated peripheral, the Switch's VR kits are more like Google's low-cost cardboard kits. Gamers can buy Labo VR kits and assemble their own headsets and weird, wacky peripherals like a bird, an elephant trunk, and even a gun to interact with special VR games. But Nintendo isn't missing out on the golden opportunity to breathe new life into some of its best and brightest Switch games using VR.
Best-selling Switch games like Super Mario Odyssey and Zelda: Breath of the Wild will have special VR compatibility with the headset. Each game plays differently in VR: Super Mario Odyssey, for example, has three special mini-games made specially for VR, whereas Breath of the Wild offers a more immersive theater mode experience.
This is likely just the beginning. We should expect to see most, if not all, of Nintendo's first-party Switch games get some sort of VR compatibility. This will add a new dimension to its previously-released games and organically drive up game sales, sales of its flagging Labo kits, and engage players over time with Nintendo's key IPs, hardware, and properties.
Nintendo's VR strategy is more about smaller, bite-sized experiences that gamers can share with friends and family instead of PC-powered VR games. The kits are affordable at $80 for the full bundle and $40 for the blaster SKU and should bring a new wave of interactivity to the Switch's games library.
This is a very, very smart move that kicks off Nintendo's new fiscal year with a creative bang. Following the VR bombshell, Nintendo is expected to release two new Switch models in 2019. Reports say these revisions include a higher-end model with beefed up internal hardware, and the other will be a low-cost handheld-only device aimed at replacing the Nintendo 3DS.
It's likely Labo VR will be compatible with all Switch models.
The Switch Labo VR kits launch on April 12 with various SKUs (outlined below), and the VR modes are coming to Super Mario Odyssey and Zelda: Breath of the Wild a few weeks after on April 25.
Here's a list of each cardboard creation included in Nintendo's $80 Switch Labo VR kit:
Toy-Con Blaster - Blast aliens with a high-power bazooka in this on-rails shooter. There's also a funky competitive two-player game that's somewhat like hungry hungry hippos
Toy-Con Wind Pedal - Rather hilarious-looking puzzle game where players step on a cardboard pedal to launch a frog into the air.
Toy-Con Bird - Fly in the sky like a honking goose, collect apples, and join your feathery flock for airy fun. There's also a speed-dash gametype where you can use the wind pedal to spread the bird's wings. It's...weird.
Toy-Con Elephant - This one is also really weird. It's an elephant face thing and you use its trunk like a digital paintbrush to paint 3D artwork. It's kind of like a VR Mario Paint. The idea is really cool, but the controller is just...strange. You can also create little neat marble puzzles, Rube Goldberg style.
Toy-Con Camera - This is basically like Pokemon Snap, but without any Pokemon and being submerged underwater. The idea is awesome, and I think Nintendo is missing some huge opportunities here. It needs to include its IPs in this VR pathway...but that could happen later on.
Nintendo Labo: VR Kit: Available at a suggested retail price of $79.99, the complete Nintendo Labo: VR Kit includes the Nintendo Switch software and materials to build all six Toy-Con projects - the Toy-Con VR Goggles, Toy-Con Blaster, Toy-Con Camera, Toy-Con Bird, Toy-Con Wind Pedal and Toy-Con Elephant - as well as a Screen Holder and Safety Cap. It's a good option for kids and families who want to dive in to the full experience.

Nintendo Labo: VR Kit - Starter Set + Blaster: Available at a suggested retail price of only $39.99, the Starter Set includes the Nintendo Switch software, plus all the components to build the Toy-Con VR Goggles and Toy-Con Blaster, as well as the Screen Holder and Safety Cap. The Starter Set is a great entry point into the world of Nintendo Labo VR.
Related Tags