Nintendo currently plans to release two new Switch models in 2019: a new higher-end version with boosted perf and specs, and a lower-end version aimed at everyday consumers, sources tell The Wall Street Journal's Takashi Mochizuki.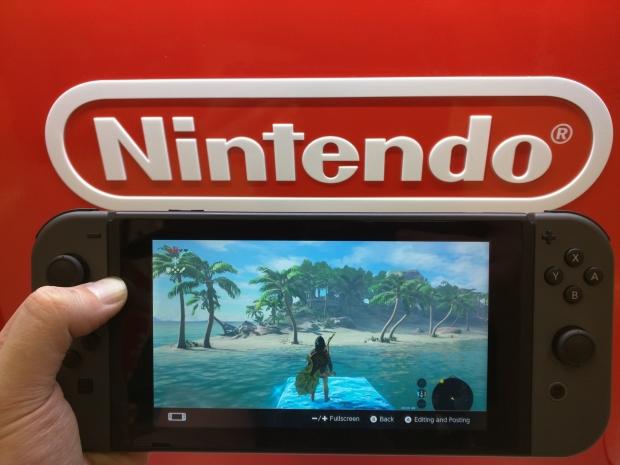 Sources say that Nintendo will have a family of Switch hardware by year's end. The Switch family will feature three different variants: a low-cost model, the current $299 handheld-console hybrid SKU, and a higher-end version aimed at enthusiast gamers. This directly conflicts with Nintendo's own statements.
We've heard reports of a Switch+ and a Switch Mini for months now, which sees hardware configurations adjusted for multiple price and specification points, however Nintendo could also upgrade the Switch consoles' dock to boost graphics and in-game performance.
The cheaper Switch aims to replace the flagging 3DS handheld line, component manufacturers tell WSJ. This model will have various features shaved off to reduce costs. It's possible the low-end Switch could be the rumored Switch Mini handheld-only system that ships without a dock to transform it into a dedicated home console. In February, dramatically reduced hardware sales led us to predict Nintendo would soon retire the 3DS in favor of its new Switch-oriented business model
"Hardware sales of Nintendo 3DS, now in its 8th year since launch, were 2.31 million units sold (60.5% decrease on a year-on-year basis), while 11.08 million software units were sold (64.5% decrease on a year-on-year basis)," the company wrote in its Fiscal Year 2018 earnings report.
Nintendo is betting quite strongly on the Switch for its future. The console's hardware and software sales made 85% of the company's nine-month revenues, and is the strongest part of its multi-faceted business plan. Other segments include mobile games, licensing for external transmedia content such as theme parks and new films, and services like Switch Online.
Switch+ is a leap forward
Sources were also careful to say the beefier Switch wouldn't just be an iterative refresh like Sony's PlayStation 4 Pro. It sounds like Nintendo wants to go all out with a next-gen Switch for 2019.
Back in March 2018, rumors pointed to a refreshed Switch with a serious hardware upgrades including a jump to a new NVIDIA Tegra 214 SoC, and double the system memory to 8GB of LPDDR4 RAM.
This new model should fully support all existing and future Switch games, though, and likely will not disrupt or fork game releases. We shouldn't see exclusive Nintendo games made specifically for the new model. Instead, the souped up Switch should simply play existing games better with enhancements like increased visual fidelity and in-game performance, possibly native 1080p 60FPS gaming in handheld mode.
What excites me is how the new Switch will performed when docked. Remember the Switch has two different modes with different types of performance: handheld mode, which is locked to 720p resolution and typically delivers 30FPS on most games, and console mode, which sees the Switch's full Tegra X1 chip unlocked to deliver up to 1080p 60FPS gaming.
Gaming on the Nintendo Switch is always better when docked. So the new Switch+ should be even better when its slotted into its dedicated home console dock. The new Switch could even target light 4K gaming, depending on how powerful its internals are.
Nintendo cloud streaming
That's not it, though. Nintendo could be eyeing a jump into the game streaming market, or even making its own Game Pass-like subscription. The Switch's internals are uniquely suited to leverage NVIDIA's GeForce Now game streaming servers (the Tegra X1 is used in NVIDIA's Shield set top boxes).
It's possible Nintendo could be laying out the foundations for such a service, piggybacking off of NVIDIA's established cloud network to stream first-party Switch games directly to users for a monthly fee.
Some extra hardware would be needed, though. Back in 2016, Nintendo patented a Supplemental Computing Device, an add-on that users attach to their Switch's dock to boost connection performance and amplify processing power. It's possible that the Switch+'s default dock will be an SCD, therefore opening a direct path to these services.