Nintendo shows off Switch VR kits in action
Nintendo's new innovative Switch VR kits bring affordable fun to all gamers.

Published Fri, Mar 22 2019 8:30 PM CDT
|
Updated Tue, Nov 3 2020 11:49 AM CST
Nintendo's handheld-console hybrid is getting virtual reality support...but it's not a dedicated headset. VR will be a constructive Labo kit with many transforming iterations.
Nintendo recently announced its Labo VR kits for the Switch, showing a refreshing new take on a rather niche market. Switch Labo VR kits see gamers building their own interactive toy-like peripherals including a bazooka blaster, an elephant faceplate with flexible trunk, and even a bird. JoyCons are slotted into the tough cardboard creations for motion tracking, and the Switch gets combined with a VR goggles attachment that slots into each Toy-Con creation.
Each cardboard creation is a kind of makeshift controller that has its own software, complete with 360-degree viewing and interactivity. As demonstrated in Nintendo's recent Labo VR deep dive video, the Toy-Cons do some nifty and rather goofy things to bring small slices of delight to consumers. There's a wind pedal you stomp on to jump as a frog in a puzzle game. There's a bazooka you use to shoot fruit into hippos mouths with. There's even a bird creation that has you soaring the skies.
And then there's this. It kind of speaks for itself.
The kits also include other software and games to play including VR Plaza, which is a collection of 64 bite-sized VR experiences to chew on.
The coolest part is Garage VR, a kind of tech engine that lets you literally create your own little VR games. Experiment with all sorts of effects, commands, cause-and-effect physics reactions, and so much more to become a mad VR scientist. It's kind of like Mario Maker, but on a more diverse 3D scale.
Here's a list of each cardboard creation included in Nintendo's $80 Switch Labo VR kit:
Toy-Con Blaster - Blast aliens with a high-power bazooka in this on-rails shooter. There's also a funky competitive two-player game that's somewhat like hungry hungry hippos
Toy-Con Wind Pedal - Rather hilarious-looking puzzle game where players step on a cardboard pedal to launch a frog into the air.
Toy-Con Bird - Fly in the sky like a honking goose, collect apples, and join your feathery flock for airy fun. There's also a speed-dash gametype where you can use the wind pedal to spread the bird's wings. It's...weird.
Toy-Con Elephant - This one is also really weird. It's an elephant face thing and you use its trunk like a digital paintbrush to paint 3D artwork. It's kind of like a VR Mario Paint. The idea is really cool, but the controller is just...strange. You can also create little neat marble puzzles, Rube Goldberg style.
Toy-Con Camera - This is basically like Pokemon Snap, but without any Pokemon and being submerged underwater. The idea is awesome, and I think Nintendo is missing some huge opportunities here. It needs to include its IPs in this VR pathway...but that could happen later on.
The Labo VR kits go on sale April 12, 2019. Here's more info about the offered SKUs:
Nintendo Labo: VR Kit: Available at a suggested retail price of $79.99, the complete Nintendo Labo: VR Kit includes the Nintendo Switch software and materials to build all six Toy-Con projects - the Toy-Con VR Goggles, Toy-Con Blaster, Toy-Con Camera, Toy-Con Bird, Toy-Con Wind Pedal and Toy-Con Elephant - as well as a Screen Holder and Safety Cap. It's a good option for kids and families who want to dive in to the full experience.

Nintendo Labo: VR Kit - Starter Set + Blaster: Available at a suggested retail price of only $39.99, the Starter Set includes the Nintendo Switch software, plus all the components to build the Toy-Con VR Goggles and Toy-Con Blaster, as well as the Screen Holder and Safety Cap. The Starter Set is a great entry point into the world of Nintendo Labo VR.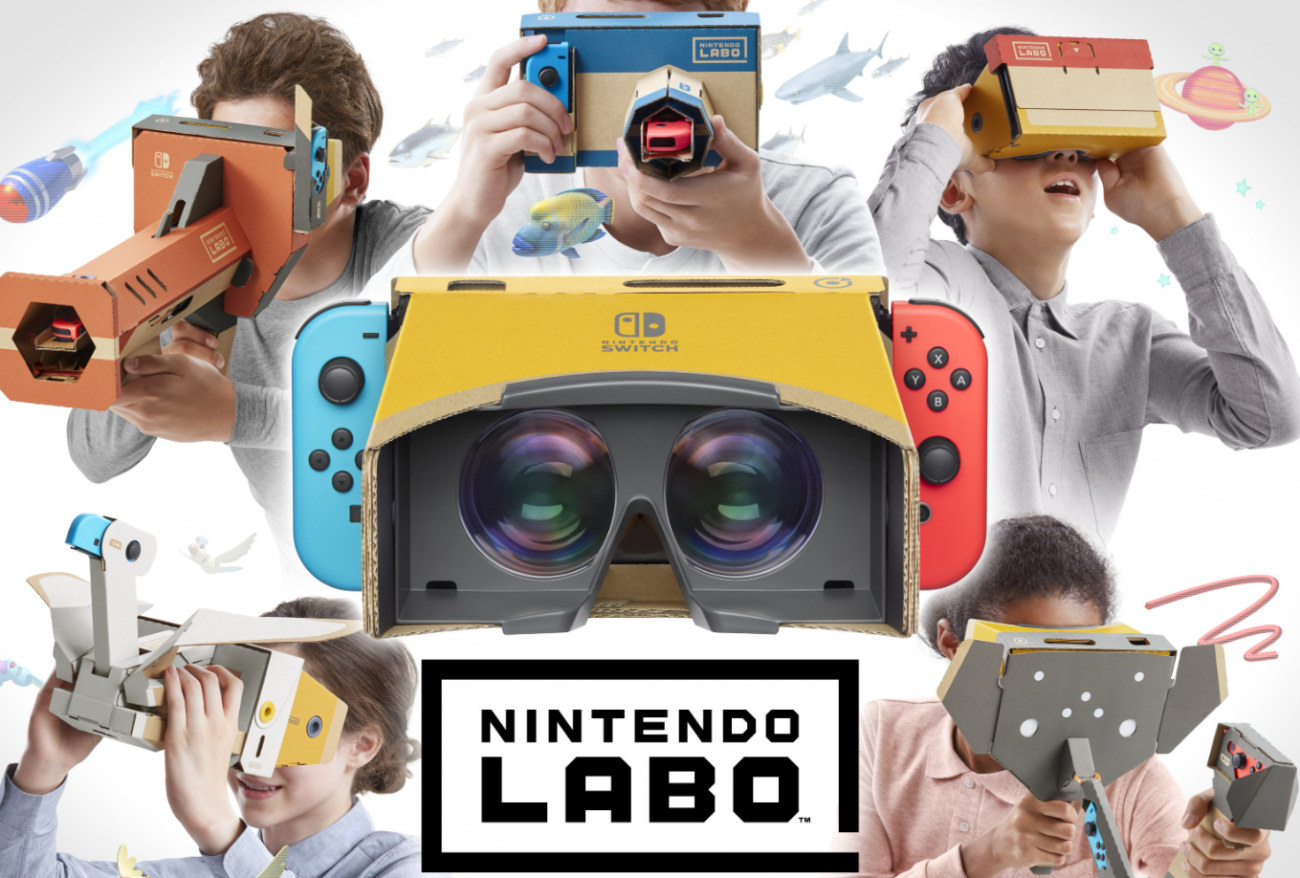 Related Tags