Risk of Rain 2 is total chaos, and I absolutely love it
Risk of Rain 2 is extremely addictive, insane, and all-around fun.
Published Apr 1, 2019 2:49 PM CDT
|
Updated Tue, Nov 3 2020 11:49 AM CST
2 minutes & 56 seconds read time
Risk of Rain 2 is a thrill ride of total havoc, carnage, and addictive action that reminds us that indies are magical.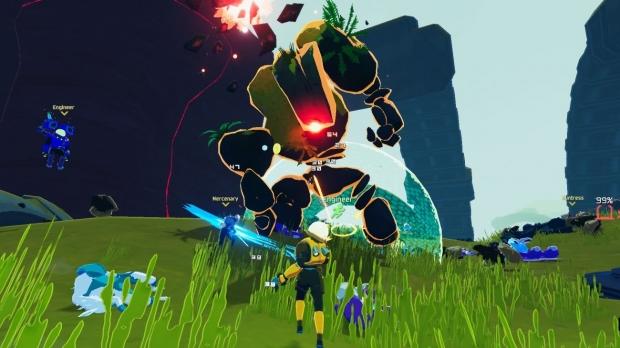 Today I played Risk of Rain 2 for the first time. Suffice it to say I think I've found my next obsession. The game has this kind of intense magnetism that resurrects the old-school shoot-em-up feel of arcade games. The pixellated graphical charm is met with an enthralling and quite dire chaos that only roguelikes can bring...but this one is more interesting than most. With online multiplayer set in a third-person shooter wrapper and a strange, enamoring sci-fi world, Risk of Rain 2 has everything any AAA multiplayer game should have: engaging combat, tons of team synergy afforded by classes, and sweet, sweet loot.
Risk of Rain 2's main draw is its destroy-everything-in-sight focus. It's all about blasting tons of randomly spawning enemies and collecting cash to unlock gear. But it's actually quite layered in many different ways. At it's core, the game is madcap scramble for survival and loot. You're encouraged to work together to survive, but also compete against one another to open boxes for passive upgrades.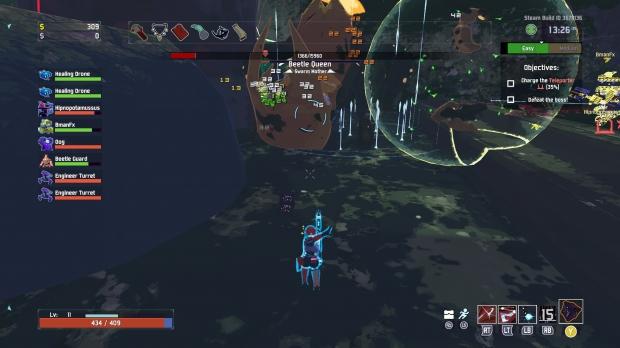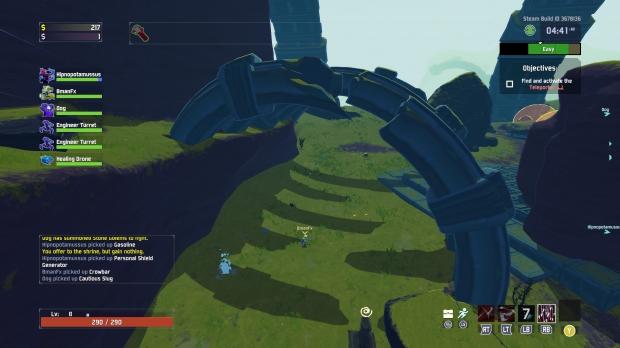 You earn cash from killing enemies and random shrines, boxes, and little events ont he map, but there's a catch: each map has a set amount of boxes and they can only be opened once. So you're trying to work together to survive, but also get enough gear to boost your damage, shields, speed, and a million other stats and bonuses.
It's a beautiful philosophy that transforms a co-op game into a PVP style experience without actually having to kill any players.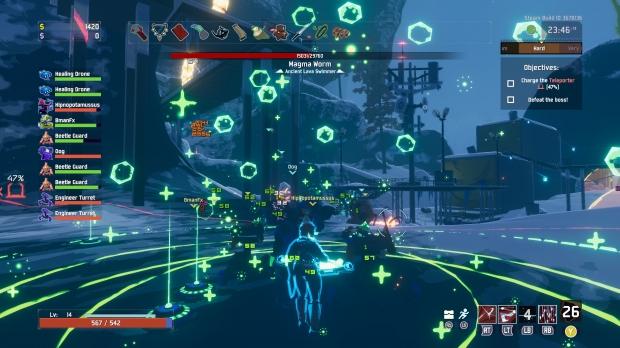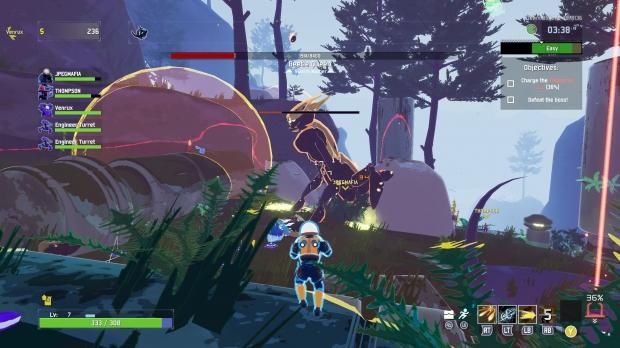 The most interesting part of Risk of Rain 2 is how it's scaled. There's a balancing act going on in any map. To progress, players must find a teleporter that spawns a huge world-breaking boss, and the objective is to kill the boss and survive long enough for the teleporter to charge up. Once it's charged, you're warped out of the map and any lootboxes you missed can't be collected.
So there's a sense of urgency to collect as much stuff as possible and delay the boss fights as long as you can. But you can't take too long or the game will punish you.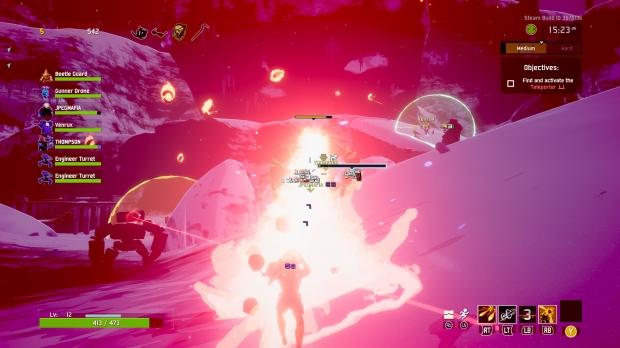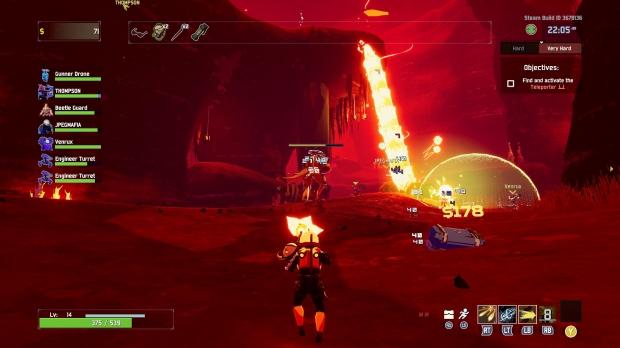 The longer you take to beat a map, the harder it becomes. The game has a difficulty slider that slowly ticks up with your playtime and enemies become stronger and more fierce. Wait too long and you'll be fighting the endlevel boss at Hard difficulty for some serious challenge. Each map becomes successively harder and the end bosses get absolutely wacky if you don't know what you're doing.
Then you die. But dying is part of the game: in fact, it's part of the goal. You pretty much go as far as you can without dying to unlock new characters and goodies for your next run. Kill, collect, die, rinse, repeat.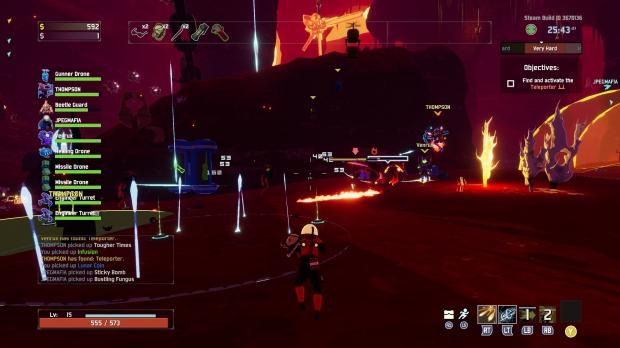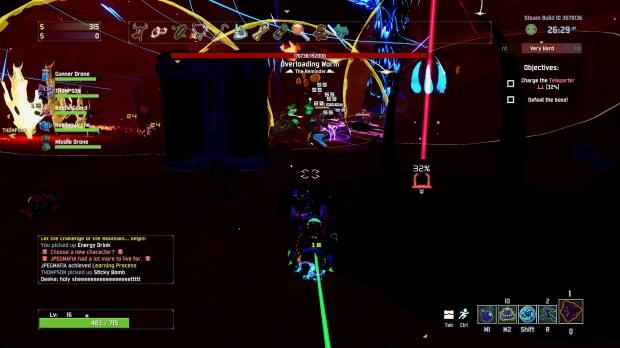 The shooter elements are completely crazy. The screen is filled with total anarchy at any given time as four players wreak total havoc on enemies, but baddies will return the favor quite soon. This is the main draw of the experience for me. I absolutely love horde-mode style games where players are pitted against waves and waves of baddies in an environment that promotes strategic play.
Armed with four skills, teamwork strategy, and an inventory of randomly-generated loot, Risk of Rain 2 gives players everything they need to blast through to the end.
Honestly, Hopoo has created one of my favorite games of 2019 and I can see myself firing this up time and time again. It's a kind of endless experience that only gets better as you learn more things and build more cohesion with other players. Once you find that ultimate squad and the right set of loot, you can get pretty far.
But make no mistake: the game is all too eager to punish any sort of arrogance. Stay humble, space explorers.
Risk of Rain 2 is now available in early access on Steam for $19.99. I'd say definitely try it out, especially if you have a few friends who all like these types of games.
Related Tags