Samsung's new HBM2E enables up to 64GB VRAM at 1.64TB/sec
Samsung's latest version of HBM is HBM2E, offers 16Gb per die, could lead to 64GB HBM2E at 1.64TB/sec bandwidth.

Published Sun, Mar 24 2019 10:30 PM CDT
|
Updated Tue, Nov 3 2020 11:49 AM CST
Samsung had some interesting things to show at NVIDIA's GTC 2019 this year, with the latest version of High Bandwidth Memory in something called Flashpoint, which offers a 33% increase in memory performance over HBM2.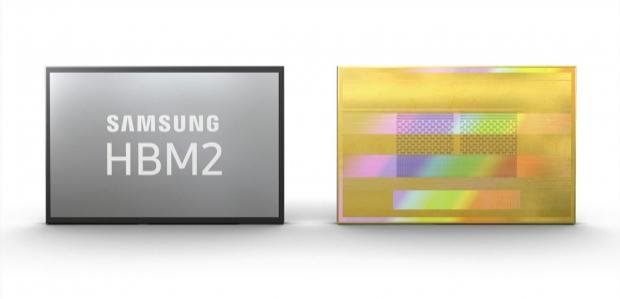 We're looking at 3.2Gbps of bandwidth per pin, with double the density to 16Gb per die in stacks of 8. This means we're looking at a single package that can pack 16GB of HBM2E with up to 410GB/sec of memory bandwidth, but in a 4 stacks of HBM2E we're looking at an insane 64GB at 1.64TB/sec of memory bandwidth. The current 4x 4-Hi stacks of HBM2 on the AMD Radeon VII has 16GB with 1TB/sec of memory bandwidth, so this is quite the increase in bandwidth.
Jinman Han, Senior Vice President of Memory Product Planning and Application Engineering Team at Samsung Electronics explains: "Flashbolt's industry-leading performance will enable enhanced solutions for next-generation datacenters, artificial intelligence, machine learning, and graphics applications. We will continue to expand our premium DRAM offering, and improve our 'high-performance, high capacity, and low power' memory segment to meet market demand".
We don't know when Samsung's new HBM2E will be in mass production and ready for professional graphics cards, but don't expect this on Navi as we'll most likely see AMD make its first use of GDDR6 when those cards are announced and released in the coming months.
Related Tags