Crytek shows off Noir, real-time ray tracing on Radeon GPUs
Crytek's new 'Noir' demo: CRYENGINE powers real-time ray tracing on AMD Radeon and NVIDIA GeForce GPUs.

Published Sun, Mar 17 2019 7:25 PM CDT
|
Updated Tue, Nov 3 2020 11:49 AM CST
Crytek has come out with a bang right before GDC 2019 showing off Noir, a new demo that highlights the impressive CRYENGINE with real-time ray tracing with a secret weapon: it works on any GPU, including AMD Radeon graphics cards. Check it out:
The demo is super-impressive, and even more so hwen you discover it is running on an AMD Radeon RX Vega 56 graphics card which isn't anywhere near as powerful as NVIDIA's arsenal of GeForce RTX graphcis cards. Noir uses experimental ray tracing features that will be built into CRYENGINE 5, with Crytek using CRYENGINE's Total Illumination effects in the Noir demo.
The effects used in Noir are both API and hardware agnostic, meaning they'll run on most new graphics cards - including AMD's higher-end Radeon cards. We should expect that once more CRYENGINE 5-powered games are made, they will look even better, and run even smoother than what we're seeing here today on the Radeon RX Vega 56.
GDC 2019 kicks off this week, so we should see some very interesting things coming from the show - including Crytek's impressive new Noir demo. All I want to see now is a full reboot of Crysis with real-time ray tracing based on the CRYENGINE 5 technology we're seeing here. Is that too much to ask? Hell, just a benchmark of Noir would be great at this point, Crytek.
We'll be keeping our eyes open for Noir and CRYENGINE 5 moving forward, that's for sure.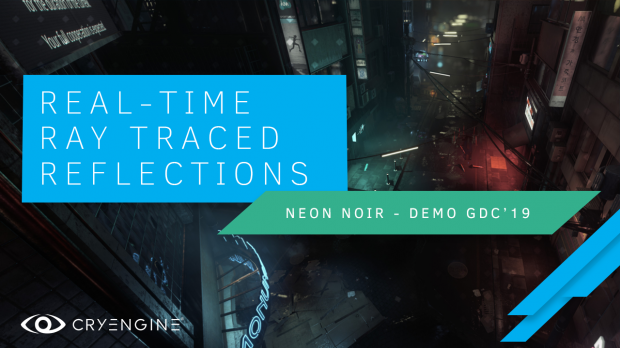 Related Tags