Xbox LIVE comes to iOS, Android games
Microsoft lays the seeds for its big new Project xCloud streaming service.

Published Thu, Mar 14 2019 7:24 PM CDT
|
Updated Tue, Nov 3 2020 11:49 AM CST
Microsoft makes another big win for its cross-platform Xbox-as-a-service business by bringing the Xbox LIVE SDK to mobile phones.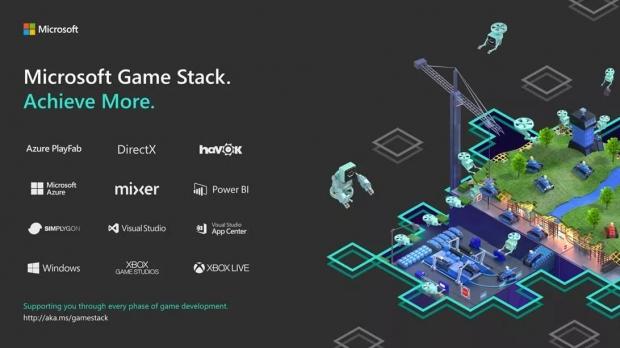 Xbox LIVE is coming to iOS and Android devices via a new flexible software development kit, Microsoft today announced. Using this new SDK, mobile game developers can tap Xbox LIVE's rich community- and engagement-driven feature set and integrate achievements, friend lists, gamerscore, and interactive clubs into their games.
The new SDK is part of Microsoft's new developer-focused Game Stack initiative, which bundles its games-making tools and services into one cohesive package. Game Stack includes tools like Azure, PlayFab, DirectX, Visual Studio, App Center, Havok, and Xbox LIVE--all of which are used to create the software, games, and services that power the Xbox and Microsoft business.
"The goal of Game Stack is to help you easily discover the tools and services you need to create and operate your game," Microsoft says.
This move sees Microsoft paving the way for its big new Project xCloud streaming service, which will bring a "Netflix for games" offering to mobiles, laptops, desktops, and Xbox consoles.
The service will stream games wirelessly from the cloud to remote devices and aims to bring AAA gaming to underpowered smartphones, tablets, and laptops using powerful Xbox console-powered server banks.
Since Xbox LIVE is the glue that holds all of Microsoft's gaming pieces together, Project xCloud will be tethered to Xbox LIVE's framework to operate and will strongly driven the company's monetized platform across new avenues like Android and iOS phones.
It's also likely the Project xCloud subscription will be combined with Xbox LIVE Gold and Game Pass in a bid to prevent service fragmentation.
Bringing Xbox LIVE to these devices is just the first step. The company plans to start privately testing its xCloud service this year, and recently showed it off during a recent Inside Xbox stream. No details on a mainstream rollout have been revealed.
Here's what Microsoft had to say about Game Stack, and how it'll empower developers and impact consumers and gamers:
Today, we're excited for Xbox Live to become part of Microsoft Game Stack, providing identity and community services. Under Game Stack, Xbox Live will expand its cross-platform capabilities, as we introduce a new SDK that brings this community to iOS and Android devices.

Mobile developers will now be able to reach some of the most highly engaged and passionate gamers on the planet with Xbox Live. These are just a few of the benefits for mobile developers:

Growing the Xbox Live Community

Another major component of Game Stack is Xbox Live. Over the past 16 years, Xbox Live has become one of the most vibrant and engaged gaming communities in the world. It is also a safe and inclusive network that has broken down boundaries in how gamers connect across devices.

Trusted Game Identity

With the new Xbox Live SDK, developers can focus on creating great games and leverage Microsoft's trusted identity network to support log-in, privacy, online safety and child accounts.

Frictionless Integration

New a la carte service offerings and no Xbox Live certification pass give mobile developers flexibility in how they build and update their games. Developers just use the services that best fit their needs.

Vibrant Gaming Community

Reach Xbox Live's growing community and connect gamers across a multitude of platforms. Find creative ways to enable achievements, Gamerscore, and "hero" stats, which have their own out-of-game experience, to keep gamers engaged.
Related Tags