Breath of the Wild looks dead without cel-shading
PC gamers use Cemu to strip away Breath of the Wild's cel-shading, and it looks pretty depressing.

Published Mon, Mar 11 2019 3:42 PM CDT
|
Updated Tue, Nov 3 2020 11:49 AM CST
Zelda Breath of the Wild's cel-shading is responsible for much of the bright and vibrant visuals the game is known for...but what if these effects were turned off?
Using the Wii U Cemu emulator, intrepid PC gamer Arkh Longstride exposes the gritty underbelly of Breath of the Wild by turning off cel-shading. The result is a rather drab, depressing, and lifeless sandbox that's a far cry from the vivacious sunlit world we're used to.
A laundry list of mods and settings tweaks were also used to augment the core experience into a very high FPS, very grey Hyrule, but it also helps if you have NVIDIA's top-of-the-line RTX 2080Ti. Besides the rather minimal art design, the game looks and plays great on PC, but you'll need to of course hack, pirate, and fiddle to replicate this kind of performance.
Here's a list of all the settings Longstride used to capture this footage:
CEMU General SETTINGS:
Use separate shaders on
diable precompiled shaders On
Vsync off
Full sync at GX2DrawDone Off (stable for me without and i gain 10 max fps, you could need it)
Upscaler/Downscaler: Nearest Neighbor
XAudio 2 24ms
NVIDIA CP SETTINGS:
Anisotropic: 16x
Gamma correction On
AA mode: enhance the appl
AA setting: 8x
Max prerendered frame: 1
G-SYNC
Power management: Max performance
Refresh rate: highest available
Texture filtering: anisotropic sample optim. : off
Negative LOD bias: clamp
Threaded optimization: on
Triple buffering: (off whit gsync, on without)
Vertical Sync: on (same, i cap fps whit rvt)
GRAPHIC PACK SETTINGS:
Cel Shading DISABLED
Shadow Brightness fix by SkalFate
Clarity Jamie Preset
LOD BIAS Extreme
NVIDIA Defog v2 0.23 set
Char defogger 0.23 set
Volumetric dust and rays 1.2 set
Enhanced reflections
DS4UI
Dynamic FPS++ 120hz
PRO HUD+ (for video purpose, i dont use it in game)
Kakariko torch shadow
LWZX Crash fix
NVIDIA Explosion smoke
AA NVIDIA fxaa set
Resolution 4300x1800 (21:9)
Shadow Resolution High 2x
FoV mod: set far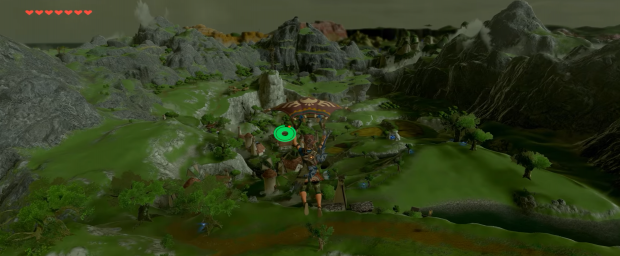 Related Tags