3D Realms' new FPS Wrath: Ruin of Aeons brings hellish chaos
3D Realms resurrects the glory days of old-school 90s PC mayhem with new Quake-inspired FPS.

Published Thu, Mar 7 2019 12:31 PM CST
|
Updated Tue, Nov 3 2020 11:49 AM CST
As promised yesterday, the legends at 3D Realms reveal a brand new shooter that hearkens back to the bloody days of early PC gaming.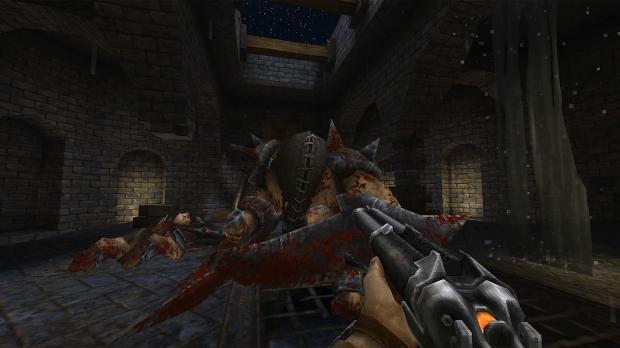 Today 3D Realms announced Wrath: Ruin of Aeons, a new blistering hardcore FPS that taps the industrial horror of yore. The game was built with the original Quake engine, and every bit of scenery shows parallels to that distinct gritty colosseum hellworld style; blood oozes down walls, obelisks to strange gods piece the stone ground, half-eroded monasteries rise into the dark, red embers glow ominously, and strange sci-tech glyphs promise interesting secrets.
Wrath: Ruin of Aeons strives to recreate that classic look and feel of the golden Quake age of gaming, and sports the classic goretastic run-and-gun approach. 3D Realms crafted 9 unique weapons for maximum heart-pumping death-metal carnage like an arm-mounted blade saw, the old-school double-barreled shotgun, a wicked spike gun that makes mincemeat out of baddies, and even a weird disgusting semi-organic alien gun.
The game has a fully-fledged singleplayer campaign, but also features multiplayer for deathmatch fragfests. Four-player LAN or online co-op is also in, and gamers can easily mod the experience with the tools that were used to actually make the game itself.
Wrath: Ruin of Aeon is slated to release Summer 2019. Check below for more information:
You are Outlander. Once adrift upon the Ageless Sea, you now find yourself on the shores of a dying world. From the consuming darkness emerges a figure cloaked in white, the Shepherd of Wayward Souls, who burdens you with the task of hunting down the remaining Guardians of the Old World. You must journey into the vast gloom to explore ancient ruins, discover forgotten secrets and battle the horrors that lurk within.

Fueled by legendary Quake 1 technology, the veins of WRATH pump with the DNA of revered '90s shooters. WRATH embraces the timeless elements of classic titles such as DOOM, QUAKE, DUKE NUKEM 3D, BLOOD, UNREAL and HEXEN and carries them into the 21st century.

Equipped with an arsenal of 9 weapons of exceptional might and an inventory of 10 powerful artifacts, you must traverse ancient crypts, sunken ruins, corrupted temples and howling forests to bring death to your enemies. But do not underestimate your adversaries, for they are great in power and number. Your mind must be as sharp as your blade if you hope to survive the dangers ahead.

The world of WRATH is rich with engaging combat, diverse environments and captivating lore. Every element is deftly intertwined to create an authentic and enchanting experience as timeless as the games that inspired it.

Features:

• Explore a vast world shrouded in darkness, passionately crafted by the hands of expert Quake scene necromancers.

• Traverse 3 hubs and 15 enormous, interconnected levels crawling with hordes of enemies, lore and ancient secrets.

• Forge your path with an arsenal of 9 deadly weapons, each with multiple fire modes.

• Know your enemy. Many horrors lurk in the shadows, thirsting for your blood.

• Artifacts of great power lay hidden in the dark places of the world. Find them and dominate your enemies.

• Powered by the Legendary Quake 1 Tech, WRATH is an authentic, classic FPS in every way.

• Capped at 666 fps, WRATH will melt your soul and your Voodoo 2... But it's okay. Software Rendering is supported!

• Create your own worlds. WRATH is built from the ground up to be easily moddable. Make your own levels, weapons and characters. From day one, the very tools used to create WRATH will be available for all.

• Gib your friends in classic Multiplayer modes, powered by the renowned QuakeWorld netcode.

• Dominate the world of WRATH with 3 other companions in 4 player co-op, LAN or online!

• Immerse yourself in a haunting soundscape born from the twisted minds of Andrew Hulshult (Quake Champions, Rise of the Triad, Dusk and Amid Evil) and Bjorn Jacobson (CyberPunk 2077, Hitman, EVE Online).
Related Tags