Neill Blomkamp's Anthem film is absolutely amazing
Neill Blomkamp is making a live action Anthem film short, and it's one of the coolest things I've ever seen.

Published Thu, Feb 14 2019 7:20 PM CST
|
Updated Tue, Nov 3 2020 11:49 AM CST
If the new trailer is anything to go by, Anthem's new film is nothing short of sci-fi mastery.
Renowned sci-fi director Neill Blomkamp (Elysium, District 9, Chappie) is making a live action short film centered around Anthem. The film is called Anthem: Conviction, and today EA and Blomkamp released a three minute trailer. The results are legitimately one of the most impressive bits of science fiction cinematography I've ever seen. Conviction has big-budget production values of a million-dollar film, with a delicious blend of practical and CGI effects that crystallize the true potential with video game films.
The best thing about Conviction is how epic it makes BioWare's new IP look and feel.
There's this mystique about the exotic world, as if some untold secrets are swimming just beneath the surface. The game is brought to life right before our eyes in stalwart quality, setting the gritty survivalist tone mixed with a kind of mythical, almost-magical colorful ambiance that brings to mind Lord of the Rings mixed with Star Wars.
There's some big clues about the game's mysterious Anthem of Creation, a god-like entity or force that can create or destroy life, and the world-breaking cataclysmic storms that scour the fantasy planet. We also get a look at the Monitor (the game's nefarious antagonist) and his Dominion force. The film is set decades before the game's storyline so things should be different in the actual storyline, but some threads will be there--like the mysterious bald girl and her connection with the Anthem of Creation.
Everything is presented in such a fabulous DUNE-like quality and I'm blown away at how striking, memorable, and truly epic it all looks and feels.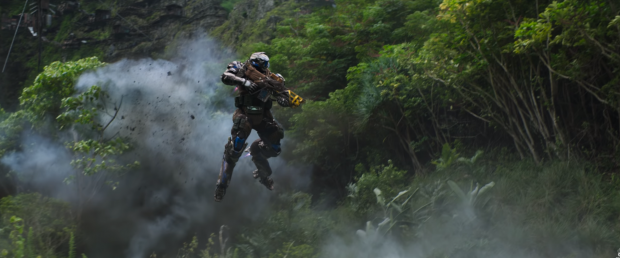 I hope the game can live up to even a smidgen of the epic feels this trailer brought. The footage promises a kind of sprawling sci-fi yarn that taps the rich vein of high-tech magic, that where science borders on fantasy.
If it can, I think BioWare will have a true hit on its hands, even with all the crazy loot grinding the service game will require.
But Anthem: Conviction has actually made me quite sad. I've often wondered what Blomkamp's cancelled Halo film would've been like...and this trailer really shows me what kind of caliber of video game adaptations the director and his studio can deliver. As a long-time Halo fan, I weep for what might've been.
There's no word when the full short film will release, or how long it'll be. But I'd pay money to see this on the big screen.
Related Tags