Intel Inside Ireland: $8 billion manufacturing plant planned
Intel plans new manufacturing plant in Ireland with $8 billion budget, will employ 1600 people.

Published Sun, Feb 10 2019 11:28 PM CST
|
Updated Tue, Nov 3 2020 11:49 AM CST
Intel is looking to ramp up its manufacturing abilities with a massive new 110,000m2 manufacturing plant planned in Co Kildare, Ireland. This new plant will expand an already huge 90,000m2 manufacturing plant.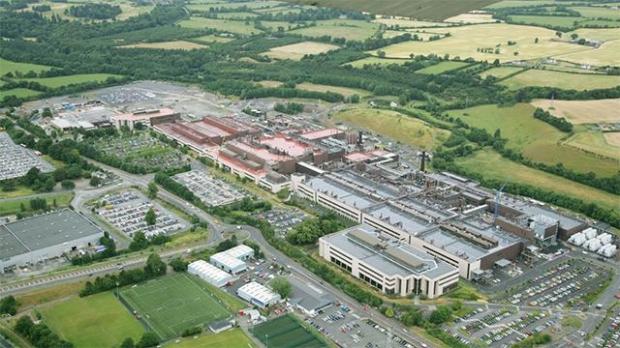 The huge new facility has a budget of $8 billion, will take 4 years to complete with the help of 3000 construction workers and once its finished it'll hire 1600 people. Intel's new planned facility will be an add-on to its Leixlip campus which houses 4500 employees. Intel's new manufacturing plant will have 8 massive water tanks that will be up to 63m tall, there'll be other facilities that will include backup generators, wastewater treatment plants, and more.
The reasoning behind the wastewater treatment plants is that the new manufacturing facility will use a crazy 37 million liters (or 9.7 million gallons) of water every day.
Team Blue wants to stay green with its new facility, with Intel promising to plant 6000 trees and 12,000 shrubs to even out its environmental impact of it needing to remove 275m of protected hedgerows to get the facility built. Intel is also promising to widen the local roads so that it can handle the additional traffic coming in and out of its new facility, with 400 additional bicycle parking spaces, and a multi-storey carpark that will accommodate nearly 600 cars.
Intel is already one of the largest users of water in the State, with water usage increasing by nearly 50% once the new plant is operational. Intel has said that Irish Water has confirmed there is enough water capacity on-site for this, while Eirgrid, the State agency that runs the electricity grid, said it would have to build a new transmission line and substation close to the new facility in order to maintain power levels. The new manufacturing plant will increase electricity consumption by up to 50% and Eirgrid wants to be ready for that.
Related Tags