Anthem's post launch content detailed
Anthem will have three major acts of post-release content to start, bringing new strongholds, missions, and more.

Published Thu, Feb 7 2019 3:44 PM CST
|
Updated Tue, Nov 3 2020 11:49 AM CST
BioWare reveals the first three seasons of post-release content for its big new online-only game Anthem.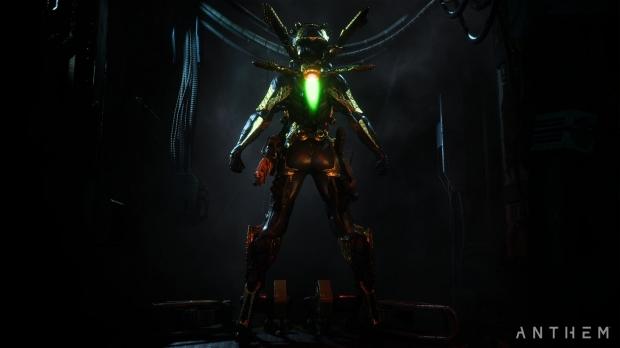 Any service game lives or dies by how well it engages players, and the best way to keep everyone playing is with new content. BioWare and EA have a strong post-release roadmap for their big new mech shooter Anthem devised for this particular purpose. The content is separated into three different Acts, which seem to be mini-expansions with lots of extras, that should stretch throughout 2019. All of these content drops are part of a campaign called Elder Content and will be free for all users. These post-launch additions funded by optional in-game cosmetic microtransactions.
Act 1: Echoes of Reality will kick off in March, and includes a whopping array of content like a level cap raise, a new stronghold (kind of like strikes from Destiny), addition of guilds and persistent online leaderboards to track your progress, fresh loot and gear drops, new missions that expand the story, and Anthem's most exciting addition of all: sky-breaking cataclysmic storms that alter the game world and summon huge bosses.
Rotating seasonal events will also be added to boot. Each Act should be themed and further expand the lore, story, mechanics, loot, and pretty much every moving part of the game itself.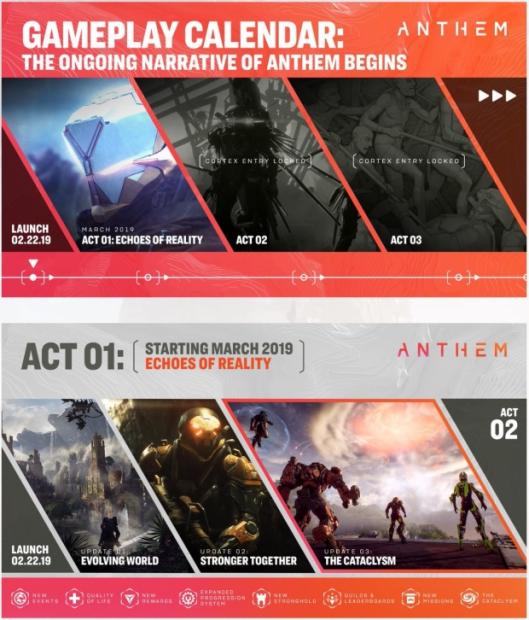 The world will also evolve along with live service hooks, whether directly through new areas that're unlocked through puzzles, raids, or other player-driven content, or indirectly through cataclysmic global events. We should see Anthem's exotic world unfold in all sorts of interesting ways and open up new avenues of exploration and secrets.
EA has geared Anthem for the long haul and we will see many more expansions and free DLC drops roll out through the game's lifecycle. The publisher has invested untold millions into the new ambitious IP, and expects to sell 5-6 million copies of Anthem in a single month.
Anthem is slated for release on February 22, 2019 on PS4, Xbox One and PC.
Related Tags