Anthem's cataclysmic storms will change the game world
Riders of the storm.

Published Wed, Feb 6 2019 6:32 PM CST
|
Updated Tue, Nov 3 2020 11:49 AM CST
Anthem will use the power of global-spanning storms to shape and change the in-game world.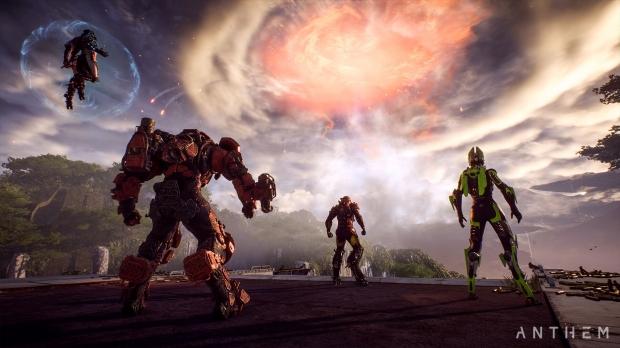 BioWare's main goal with Anthem was always to make a world that's constantly changing. But this isn't just figurative PR-speak to describe post-launch content and live service expansion; there's a literal mechanism of change built into Anthem's online world. Like the tides continually shift the sands and ancient rivers molded canyons of our real-world, so too will Anthem's spontaneous storms alter its digital landscape.
These dangerous storms are called Cataclysms, and they're global world events that are simultaneous to all players (this was another milestone BioWare aimed for with Anthem). I was instantly intrigued by these storms when Anthem was revealed, and saw tons of opportunity for EA and BioWare to engage players. Cataclysms not only spawn ferociously-powerful titans seemingly from another dimension, almost like the world tore itself open to let monsters bleed through, but can actually affect the environment itself and reveal new mysteries to uncover. In this way, Anthem's storms are akin to Fallout 76's nukes.
"The world of Anthem is terrifying, dangerous, and unpredictable - and you will have to deal with its deadliest phenomena, called Cataclysms. These world events cause physical changes to the world like extreme weather, deluges of hostile creatures, and changes to the landscape that will reveal new mysteries to solve," BioWare said in a recent update post.
"Taking on these challenging events will earn you some mysterious rewards - rewards we'll be able to tell you about very soon."
These storms are BioWare's most ambitious and challenging events it's ever made.
Cataclysms have enormous potential to dramatically change Anthem over time, and provide something different. Hopefully these storms will unearth lots of strange relics the same way the ebbing and flowing tides wash bizarre treasures ashore.
Anthem releases on February 22, 2019 on PS4, Xbox One and PC.
Related Tags