Samsung's new 1TB storage chip: perfect for new Galaxy S10
Samsung's new 1TB chip is UFS 2.1 standard with 1GB/sec read and 260MB/sec writes - perfect for the upcoming Galaxy S10 1TB.

Published Thu, Jan 31 2019 9:46 PM CST
|
Updated Tue, Nov 3 2020 11:49 AM CST
Samsung has just announced its new 1TB storage chip, coming in with a tiny flagship embedded universal flash storage (or eUFS) that boasts twice the amount of storage than the previous flagship 512GB eUFS chip.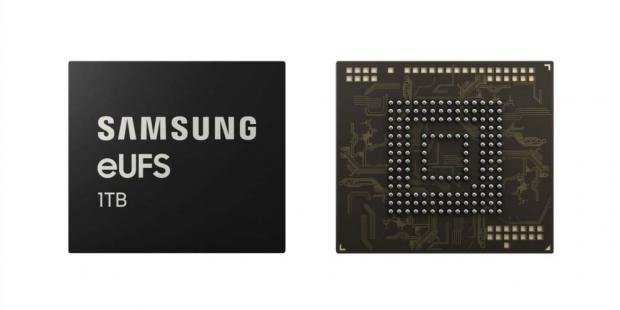 The new 1TB chip has the same UFS 2.1 staandard that will offer even higher transfer speeds than the previous 256GB and 512GB chips, with up to 1GB/sec reads and 260MB/sec writes. There's also 58,000 IOPS in random read speeds while 50,000 IOPS for 50,000 random writes that is up from 42K and 40K IOPS, respectively, from the 512GB eUFS 2.1 chips. The smaller 256GB chip has reads of up to 850MB/sec and writes of up to 260MB/sec, the larger 512GB chip reads at up to 860MB/sec and slightly slower 255MB/sec writes.
The new 1TB chip is the same thickness as the 256GB and 512GB chips, so we should see super-thin new smartphones like Samsung's upcoming Galaxy S10 and Galaxy Note 10 with 1TB storage models in the very near future. This isn't the bleeding edge though, as we have UFS 3.0 chips right around the corner that will promise close to twice the transfer rates, lower power consumption, but there has been no word on capacity just yet.
Related Tags