Metro Exodus has transforming guns
4A Games adds a new modular gun crafting system to the latest Metro sequel.
Published Jan 23, 2019 11:41 PM CST
|
Updated Tue, Nov 3 2020 11:49 AM CST
1 minute & 48 seconds read time
Guns can transform on-the-fly thanks to Metro Exodus' new modular crafting system, adding greater tactical strategy to the FPS.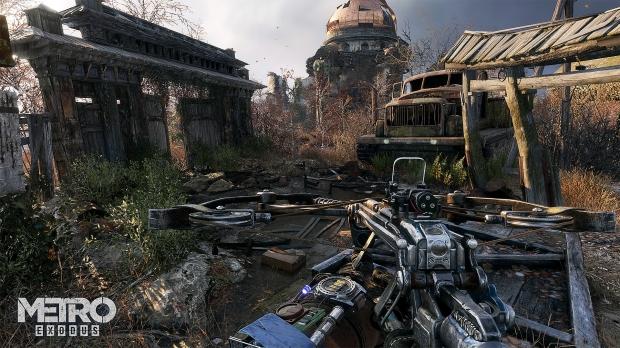 With its huge open-world scope and reactive storytelling, Metro Exodus isn't content with being the biggest Metro game yet: it's also doing awesome things with gunplay. The new shooter will have a wide array of customizable weapon mods that transform specific weapons into other gun types. Gamers can slap on a scope and a stock to a pistol and change into a rifle, or pop on a heavy barrel and an extended magazine to make it a bastardly rapid-fire SMG. Mods like scopes, barrels, stocks, and magazines can change up weapon performance by boosting (or reducing) stats like range, firepower, accuracy, etc.
"Using a new customization system, you can evolve your arsenal in the field, effectively adapting to any situation. Whether it's as a silent assassin, a close-range heavy-hitter, or anything in between, there's a multitude of options available to fit your preferred style of play," 4A Games said in a new Metro trailer.
Metro Exodus has four different weapon classes, all of which transform:
Handguns - Transforms into medium-range rifle or SMG.
Shotguns - Basically a blunderbuss-type base, can upgrade into double-barrel or four-barrel, also has a semi-auto version.
Rifles - Kalash and Bulldog are base weapons, players can add scopes, barrels, stocks and more. Other rifles include the ultra-powerful Valve anti-materiel rifle.
Special Weapons - Include Helsing crossbows and silent TiKhar rifle, can fire specially crafted ammo like incendiary rounds.
This modular crafting fits perfectly with the franchise's gritty survival setting and brings some interesting new strategic elements to the mix. I for one can't wait to see how the game actually plays with this new mix-and-match system, and want to try out all kinds of different mod systems in the open-ended shooter.
Metro Exodus launches February 15, 2019 on PS4, Xbox One and PC.
Related Tags