Today WB Games released a ton of new Mortal Kombat XI info, including a spine-tearing gameplay trailer and confirming the sequel's continuing story arc.
Mortal Kombat XI's story is all about time, specifically how its related to the fabric of reality. The fighting series' penchant for big, overarcing sagas will continue with the latest entry and picks up directly where Mortal Kombat X left off. Raiden's actions literally broke time itself, and a mysterious new god-like being has stepped in to restore it. This time around we'll actually be traveling back to the past to fight "shadow" versions of ourselves and eventually take on the game's first-ever female boss, Kronika.
"MK11 picks up right where MKX left off. Raiden had become a dark god. Turns out he's disrupted the balance of good and evil in the universe that was desired by Kronika, a new character in the Mortal Kombat universe who is the keeper of time, the architect of the destiny of the universe," said story director Dominic Cianciolo.
"Now that things have shifted irrevocably to the side of good, so she has only one solution left. That is to rewind time back to the beginning and restart it."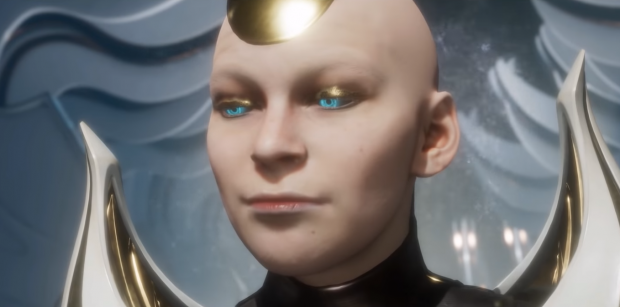 "Know this, Shinnok. The arc of the universe bends to my will." --Kronika
Well now. That's certainly interesting. MKXI could have us replaying old triumphs and reliving defining moments in the franchise's 25-year history, all with a twist.
"Raiden has upset the balance of history with the death of Shinnok. Tired of Earthrealm's defiance, Kronika, The Keeper of Time will bring order to the universe through any means necessary."
"One of the interesting aspects of MK11's story of time folding is that you get to see so many interesting interactions between young and old versions of characters," said Netherealm Studio Head Shaun Himmerick.
Mortal Kombat XI is slated to release on April 23, 2019 for PS4, Xbox One and PC. A private beta will be held in March for everyone who pre-orders the game.