Aquaman: largest DCEU movie, third-largest underwater movie
Aquaman passes Batman v Superman as the highest-grossing DCEU movie ever, is also 3rd largest 'underwater' movie.

Published Sat, Jan 5 2019 10:57 PM CST
|
Updated Tue, Nov 3 2020 11:49 AM CST
Aquaman is the success story that WB has been gambling for since it started with Man of Steel in 2013, continued with Batman v Superman: Dawn of Justice, and hit out of the park with Wonder Woman.
Between now and then it hasn't been so good with the total dumpster fire that was Justice League, but WB allowed James Wan who directed Furious 7 and made an insane $1.5 billion for Universal. Wan had a vision for Aquaman that has paid off in more ways than one, with the energenic and charismatic Jason Momoa riding the wave as anyone would.
Well, the movie quickly shot past a few hundred million dollars in Chinese box office before hitting the US to open just shy of $200 million. It was only a few days ago that Aquaman was edging on $800 million and has now passed that to reach $887 million with no signs of slowing down. In comparison, the full cinema run of Batman v Superman: Dawn of Justice only pulled in $873 million and that had Superman and Batman in the title, in a fight, in a showdown almost to the death and it didn't hit $1 billion.
Aquaman - $887 million

Batman v Superman: Dawn of Justice - $873.6 million

Wonder Woman - $821.8 million

Suicide Squad - $746.8 million

Man of Steel - $668 million

Justice League - $657.9 million

Total - $4.65 billion
Aquaman is riding to shore on a gigantic pile of cash for WB, where it will hit the shore with $1 billion by the end of the week at this rate. The next movie in the DCEU is Shazam which opens in April, and then Wonder Woman 1984 on 5 June, 2020. WB recently pushed the new Wonder Woman movie back from its original release of later this year on December 13, a move I'm sure was done so it didn't have to compete with all of Disney's movies this year.
Remember Disney owns Marvel, Pixar, Lucasfilm and its own gigantic library of Disney content. There's a new Star Wars movie coming this year, Avengers: End Game, Frozen 2, and Toy Story 4... all multi-billion franchises on their own terms and Disney owns it all. WB's new found success with its first billion-dollar DCEU movie is going to be huge, and it all happened with an offshoot character like Aquaman. Not Superman. Not the new Ben Affleck led-and-now-fired Batman. But the triton-toting fish dude.
Bonus fact: Aquaman is now the third-largest underwater movie, behind Finding Nemo and its sequel Finding Dory.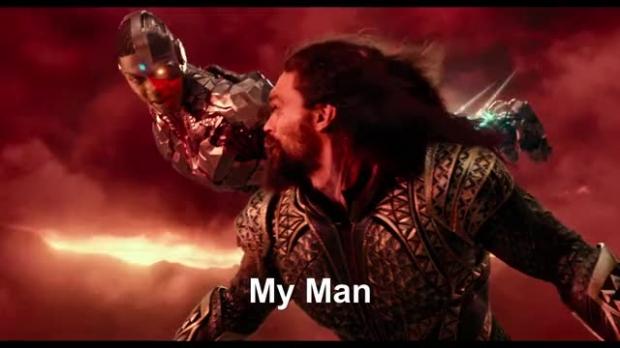 Related Tags