Take-Two's Private Division is great for AA studios
Take-Two's new Private Division label shows a new side of the monetization-driven publisher.

Published Sat, Jan 5 2019 3:31 PM CST
|
Updated Tue, Nov 3 2020 11:49 AM CST
Take-Two Interactive is mostly known for big AAA releases like Grand Theft Auto and NBA 2K, but the publisher is branching into more AA experiences to help diversify its releases.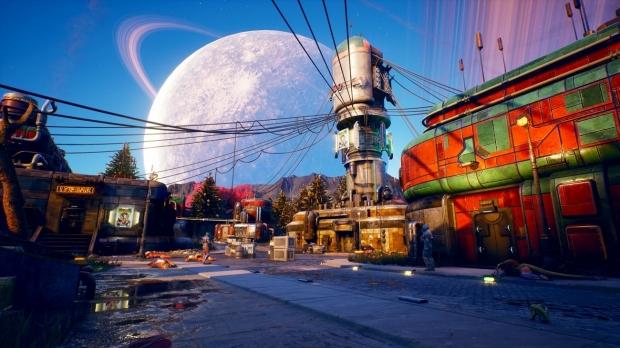 Any games-maker needs to have multiple products in development at one time, but more importantly, it must have new titles regularly released to fund those projects. Most publishers (Activision, EA, Ubisoft, Take-Two) use live service games to achieve this. Rather than having to release constant streams of games, they release one big game with microtransactions and rake in continual earnings over years-long periods, and this strategy has worked: GTA Online has made over $1 billion to date. Despite this, though, publishers like Take-Two often have whole quarters with few titles released, and one of the best ways to fix that is to focus on a healthy slate of AAA and AA titles.
The new Private Division label is Take-Two's way of achieving this. But rather than trying to infuse its AAA business model into the new AA-based label, Take-Two is letting developers like Obsidian create the games they want to make how they want to make them. Obsidian's new game The Outer Worlds is an action FPS RPG with the original Fallout devs at the helm, but more importantly, it's singleplayer-only and won't be a live game infused with microtransactions. This clearly illustrates Take-Two understands that AA games are different than AAA titles, and shouldn't be pressured with the same money-making tactics.
If this wasn't enough, both of the original Fallout creators Tim Cain and Leonard Boyarsky affirm that Private Division has been quite understanding and supportive of their singleplayer-driven focus.
"[Private Division has] been wonderful. Everybody there understands what we're trying to make and they help us do that. They have this QA team who we've been sending game drops to along with test planets because this game has a lot of ways you can play it. And they've been really good at testing all the different paths and coming back and telling us what worked and what didn't," Tim Cain said in a recent interview with EDGE Magazine.
"It's been great. Sometimes when you're dealing with third parties and other publishers, they see something in your game that's not the game you're making, and they want to take a different direction," Leonard Boyarsky said in the interview. "But Private Division really seemed to grasp what we wanted to do and were very excited about it."
(Continued below)
It's great to see Take-Two embrace this kind of process with AA gaming, and I hope to see other publishers do similar things. There's evidence that Microsoft will mirror this tactic with their new Microsoft Studios acquisitions. The company bought key AA indie studios like Obsidian (Private Division is still publishing The Outer Worlds despite Microsoft ownership), Ninja Theory, and inXile, and execs strongly hint that the games made by these AA studios won't be monetized the same way as AAA games.
In other words, we could see the resurgence of singleplayer games from major publishers.
"While the industry is growing across the board, there seems to be fewer teams and studios focused on 'mid-tier' games that sit between triple-A blockbusters on one end and smaller indie games on the other," Microsoft Studios head Matt Booty said at E3 2018.
"Those are some of the kinds of studios that we're interested in partnering with right now, studios with teams that can make quality, crafted games that sit just between mid-tier and triple-A and by becoming part of our Microsoft Studios family, can focus on craft and innovation and accelerate their creative growth."
Related Tags