Kingdom Hearts III is finished
Tetsuya Nomura and his team has finally completed Kingdom Hearts III.

Published Tue, Nov 20 2018 5:34 PM CST
|
Updated Tue, Nov 3 2020 11:50 AM CST
After nearly 12 years of development, Square Enix has finished up development on Kingdom Hearts III.
Tetsuya Nomura today confirmed what fans have been waiting for years to hear: Kingdom Hearts III is now complete. All the programming, designing, directing and every other insurmountably compounded task on the RPG has been wrapped up. "I'm proud to unveil an extended version of the trailer that's been playing in NA cinemas. And guess what? We've wrapped up development of Kingdom Hearts III!" game director Tetsuya Nomura said on Twitter (the trailer is found above). "If you haven't had the chance yet, now would be a good time to prep by playing 1.5+2.5 & 2.8. See you next month!"
This news is undoubtedly a milestone for the studio and gamers alike. Everyone's been waiting over a decade for Sora's next chapter and to jump back in the mix with beloved Disney characters. This update also means Kingdom Hearts III won't be delayed--that would hurt Square Enix quite a bit--and we should see a "gone gold" confirmation soon.
It also means Nomura's team will soon be free to take on the daunting task of further developing the Final Fantasy VII Remake.
New worlds include those based on Toy Story, Tangled, Frozen, Big Hero 6 and Monsters, Inc., and we'll see lots of returning locales like 100 Acre Wood, Twilight Town, Olympus and The Caribbean.
Kingdom Hearts III will launch on January 29, 2019 for PS4 and Xbox One.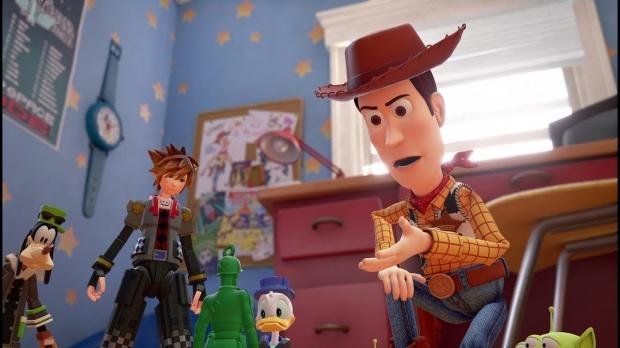 Related Tags