Nintendo has no immediate plans for N64 mini
Switch Online will be a main conduit for retro gaming, Nintendo of America president says.

Published Thu, Nov 15 2018 5:10 PM CST
|
Updated Tue, Nov 3 2020 11:50 AM CST
Patents indicate Nintendo will probably make a Nintendo 64 Classic Edition, but don't expect it any time soon.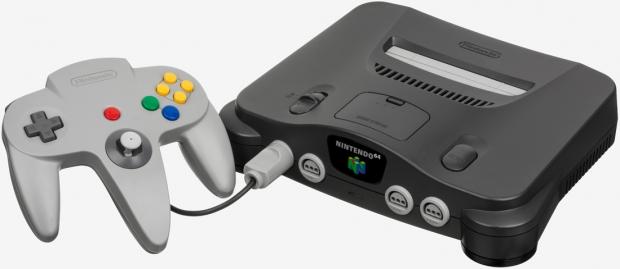 Business for retro gaming is quite good. Nintendo has made millions off of its NES and SNES micro-consoles, and there's evidence an N64 mini will happen at some point. But when? Nintendo of America President Reggie Fils-Aime gives us an answer but it's not a good one. Essentially Fils-Aime hints the mini consoles could be overshadowed by Nintendo's recent Switch Online paid subscription service, and Nintendo could slowly drip-feed classic games on that platform more prominently than mass-market micro-systems.
When asked flat-out by Kotaku if an N64 Classic is coming, Fils-Aime said the system isn't in the immediate future. It's apparently not even on the horizon. "I would not ever rule something out, but what I can tell you is certainly that's not in our planning horizon," the Nintendo president said.
Fils-Aime re-iterates that the NES and SNES Classics are simply limited run affairs (despite both systems being re-released) and Nintendo is now focusing strongly on the Switch Online NES offering (despite the library growing at a very snail-y pace).
"So while consumers may have been anticipating something, we view these as limited time opportunities. We've also now been very clear that as the consumer looks forward to engaging with our classic content that is going to happen more and more with the subscription service."
The last part doesn't make a lot of sense. The whole point of the classic machines is built around a multi-tiered strategy: first you make money from a product that instantly taps nostalgia, secondly you fold average everyday consumers into the Nintendo brand and then possibly entice them into buying a Switch, and finally you create a mystique and buzz around possible future systems.
When the NES Classic Edition launched everyone was talking about Nintendo again. The Wii U was forgotten and gamers everywhere talked about the possibilities of expanding the Virtual Console library across more old-school systems and discussed growing up in the 80s. The stores had trouble keeping them in stock--it was like 1986 all over again--and it was a huge holiday hit.
Nintendo's experiment worked (and continued working with the SNES Classic Edition) so it'd be foolish not to push it even farther. But it'll do it in a way that doesn't compete or overshadow Switch Online, especially since the online service is absolutely critical for the console's long-term engagement strategies.
Related Tags