Nintendo's new Switch Online service lets you play classic NES games on the handheld-console hybrid, and here are some details you need to know.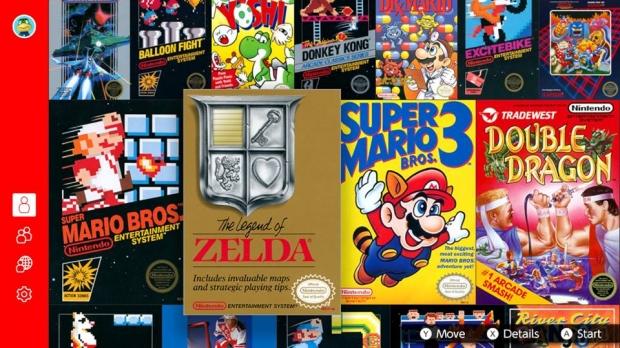 In order to play the library of 20 NES games on the Switch you first need an active Switch Online subscription. Luckily you can just grab the free 7-day trial, but you'll have to enter credit card/PayPal info to access it. The subscription will bill you every month unless you turn off automatic renewal, too. To do that you'll need to go to the Switch Online hub on the eShop (the service doesn't have its own dedicated square or app on the main page). Also remember to log in every 7 days or else you can't play your library of games.
Here's how to turn off Switch Online's automatic billing renewal:
Go to the eShop

Navigate to Nintendo Switch Online on the left-hand list

Click the Your Subscriptions square

Turn off Automatic Renewal via the upper right square
Now that's out of the way, you can enjoy cost-free NES games on the Switch! Let's move on.
But I have to warn you: playing NES games on a default Switch really isn't all that great (at least for me). Before you get too excited about playing Super Mario Bros. 3 on-the-go, remember the Switch isn't exactly tailor-made for retro games. This comes down to the left Joycon's split D-pad. I predicted this would be a problem shortly after the Switch launched...and lo and behold here we are. I'll go more in depth on this later...but for now just heed my warning and maybe use a Pro controller if you have one.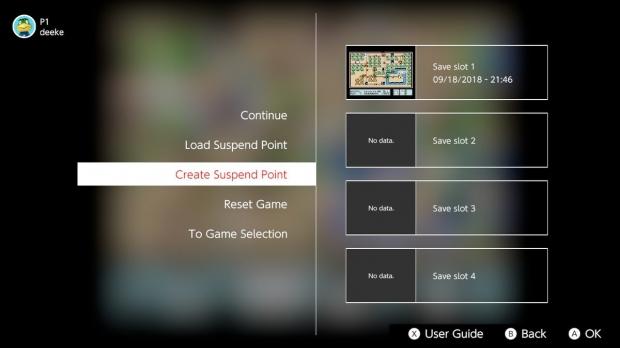 Save States
Nintendo almost makes up for this inconvenience by including save states in all 20 NES games. Just like with the SNES and NES Classic Editions, each game has 4 save slots apiece.
Being able to easily pick up where you left off is something we always take for granted these days, but any retro gamer can tell you horror stories about hours (or even days) of progress being wiped out on a whim. You can also reset the game via the handy Virtual Console-esque menu interface.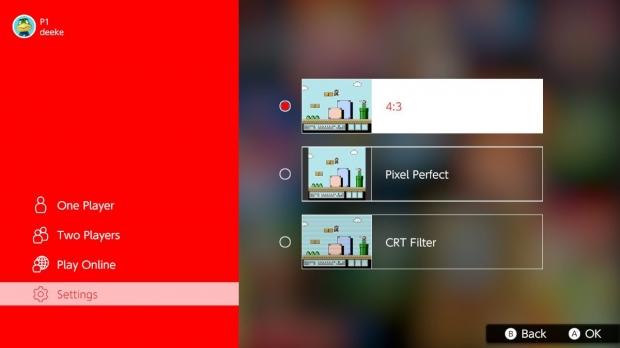 Visual Modes
Nintendo takes more out of its mini console playbook with three available visual modes like 4:3 for an old-school aspect ratio, Pixel Perfect for a more crisp experience on modern TVs, and even a CRT Filter that aims to bring you back to the past with a retro look.
But the CRT mode just doesn't look so good blown up on big-screen HDTVs and looks better in handheld mode. Regardless of what mode you pick, the games don't play in full screen in handheld mode.
Here's examples of the three modes (from left to right: CRT Filter, 4:3, and CRT Filter)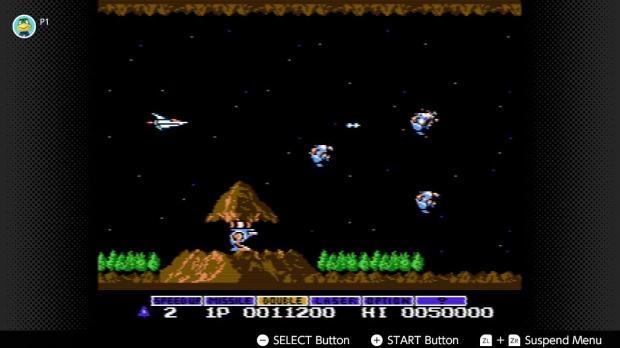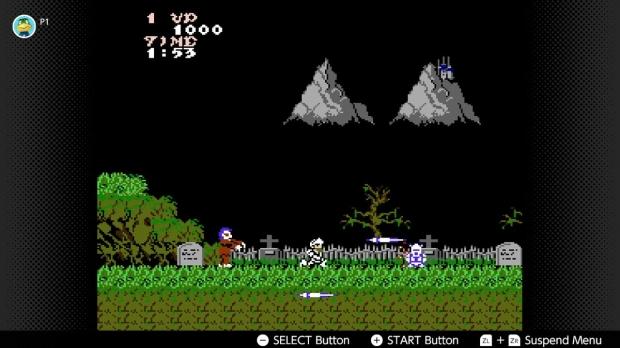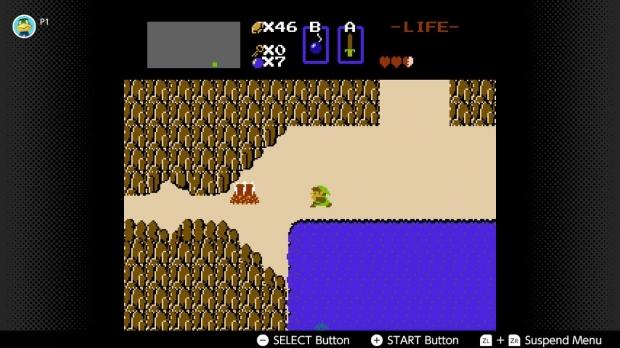 To change up the filters and visual styles, navigate to the main menu and go left towards the red strip. Then select settings and pick from one of the three modes.
Warning: You can't change visual modes while in-game. To change modes you have to bring up the VC menu and select Back To Game Selection, which effectively resets the game you were playing. Be sure to save your progress in a save slot before changing modes.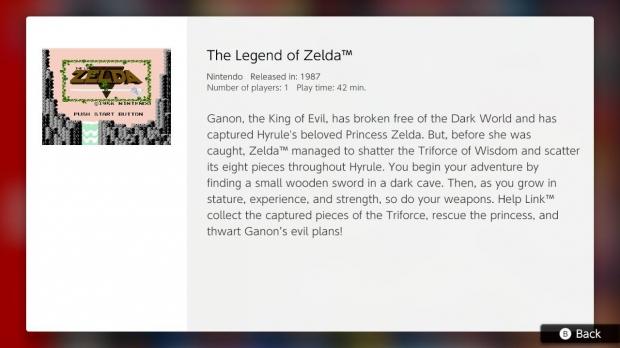 Games Monitor Playtime
The Switch will actually monitor and record playtime for any given NES game, giving you a gauge of how far you've come (or how embarrassingly long it took you to beat Zelda's first dungeon).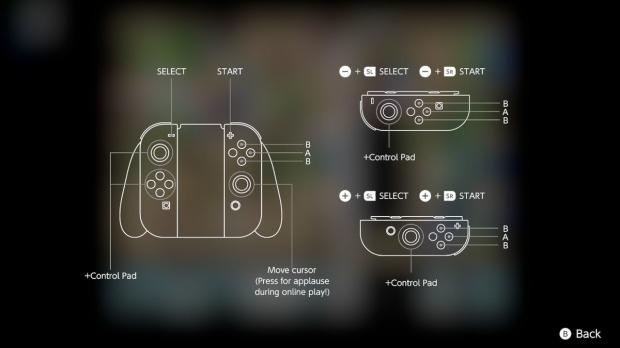 Controls
NES games can either be played online with a friend, solo, on-the-go via handheld mode, or locally with a friend in docked mode. I absolutely do not recommend playing any sidescrollers or tough games like Ghosts and Goblins with a single joycon unless you really want to break your expensive doohicky. I played a few games like this and it felt like my analog nub was going to snap right off.
Plus the controls are oriented weird. Games like Super Mario Bros. 3 require some adjustment (even more than just the split D-pad), and for some reason Nintendo won't let us re-map controls. Maybe that'll come with a later update? I remember being able to do it on the Wii U's virtual console...
Customizing Games Library
This is just a small feature really, but Nintendo lets you move around game tiles and customize your NES library the way you want. Put your favorite games at the top where they'll be seen, or maybe just keep Zelda in the middle so it takes up the most space. It's up to you!
Wrap-Up
This is just a sampling of the Switch Online's NES offering and I think lots of things will change. But what won't change is a big annoying roadblock that pushes us towards buying extremely limited $60 controllers on top of a $20 a year service in order to get a more full NES experience.
Right now the NES offering feels more like a novelty to me and less like a definitive and core feature, but that could change if I actually get a hold of a controller that isn't either A) awful for precision sidescrollers or B) isn't stiff as a board.
The Nintendo Switch Online service is now available, and check below for more info:
Pricing
(single account holder plans)
1 Month - $3.99

3 Months - $7.99

12 Months - $19.99
Family membership, 12 Months - $34.99
"A Nintendo Account holder may invite up to seven others to join a family group; all members of the group will have access to Nintendo Switch Online."
The following NES games will be available for free as part of the Switch Online service, and more are expected to arrive later.
Soccer

Tennis

Donkey Kong

Mario Bros.

Super Mario Bros.

Balloon Fight

Ice Climber

Dr. Mario

The Legend of Zelda

Super Mario Bros. 3

Double Dragon

River City Ransom

Ghosts'n Goblins

Tecmo Bowl

Gradius

Pro Wrestling

Excitebike

Yoshi

Ice Hockey

Baseball
The following games will be added later: