Red Dead Redemption 2 has a 'work tireless hours' easter egg
Developers at Rockstar Games managed to get a 'work tireless hours' easter egg into the game, it has been found!

Published Tue, Oct 30 2018 1:00 AM CDT
|
Updated Tue, Nov 3 2020 11:50 AM CST
The controversy surrounding the work weeks Rockstar developers was put under has been found as an easter egg within Red Dead Redemption 2.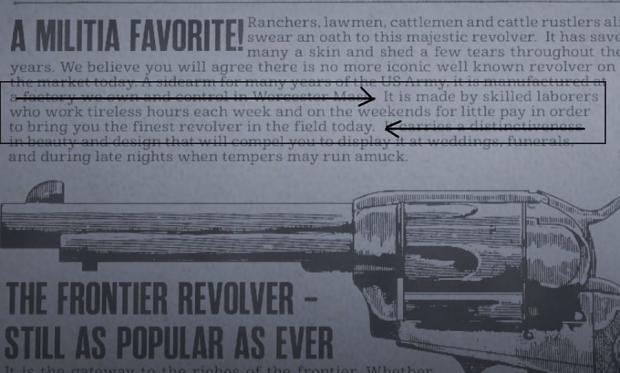 Before the launch of Red Dead Redemption 2, Rockstar was put under the microscope a bit as Rockstar Studios' co-founder, Dan Houser made his development team work multiple 100-hour weeks throughout 2018 to complete Red Dead Redemption 2. Job J Stauffer, the co-founder of Orpheus Self-Care Entertainment even spoke out about his experience working at the company, "It's been nearly a decade since I parted from Rockstar, but I can assure you that during the GTA IV era, it was like working with a gun to your head 7 days a week." For more details on that story visit my article here.
Looking towards the above image now, we can see that "it is made by skilled laborers who work tireless hours each week and on the weekends for little pay in order to bring you the finest revolver in the field today." It seems that maybe a developer/s managed to squeeze in a little metaphor regarding their work weeks before official launch of the game. If not then this is just one mighty big coincidence, you decide.
Related Tags