Bandai debut Soulcalibur VI: Inferno Character trailer
A new character trailer has been released by Bandai for Soulcalibur VI, introducing the spirit of Soul Edge, Inferno.

Published Fri, Oct 5 2018 5:00 AM CDT
|
Updated Tue, Nov 3 2020 11:50 AM CST
A brand new character trailer has been released ahead of the launch of Bandai Namco's Soulcalibur VI. The trailer reveals the physical spirit embodiment of Souls Edge, Inferno.
Jumping into a little back story about Inferno for those that don't know. Inferno is the spirit within Souls Edge which is the central antagonist in the entire Souls series. When Souls Edge was originally forged it was just an ordinary sword, after numerous years of use the sword was bathed in blood and hatred which resulted in it gaining a wicked evil demonic soul, called Inferno.
Since the characters within Soulcalibur are after the power of Souls Edge, Inferno poses the mind of whatever character wields the blade. This means that Inferno is the "true form of Souls Edge" and the polar opposite of Soul Calibur, the sword created to combat Soul Edge. If you happened to miss the reveal trailers for Raphael, Cervantes, Tira, Maxi, Taki, Siegfried and Geralt definitely catch up on those. The release date for Soulcalibur VI is on October 19th, the title is going to release on Xbox One, PS4 and PC.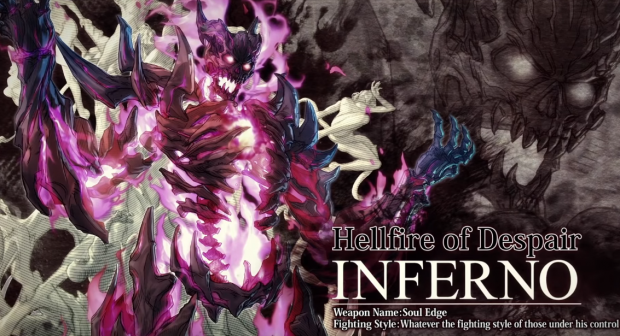 Related Tags