Nintendo is an entertainment company, not a gaming company
Nintendo's broad focus transcends gaming and aims at more cross-media experiences.

Published Fri, Oct 5 2018 11:59 AM CDT
|
Updated Tue, Nov 3 2020 11:50 AM CST
Nintendo's future lies beyond gaming, and it plans to branch out more to other entertainment experiences like movies, shows, and more.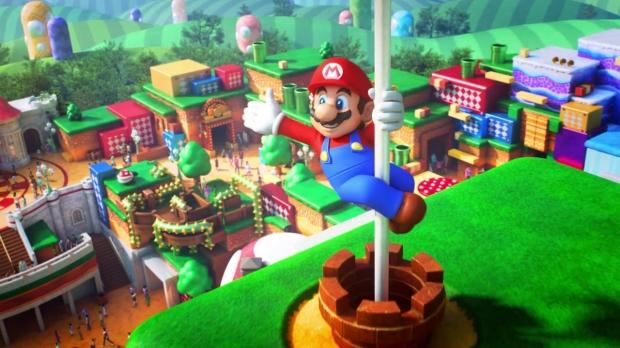 As Nintendo of America President Reggie Fils-Aime says, the Japanese company is more than just gaming--it's just part of the bigger picture. It's true Nintendo is mostly known for icons like Link and Mario, proving gaming is the starting point to a more broad reach among consumers. But other mediums like movies, theme parks, and maybe even TV shows are a gateway to even wider mass market appeal. You see, it's all about engagement: not just engagement in games, but more importantly outside of them as well. Nintendo wants to engage consumers in their brand even further with entertainment that's not just limited to gaming or a games console like the Switch--Nintendo is crossing into the real-world to excite people.
At this year's Geekwire Summit, Fils-Aime touched on how gaming is cornerstone of its business and how the company is moving beyond this scope. "It's about Mario, Zelda, Pokemon-all these wonderful intellectual properties...how we leverage these across a variety of entertainment platforms is how we're looking to grow the company."
This plan has manifested in a number of ways. There's Mario Kart VR that allows users to experience their favorite racing game in a brand new way. There's the upcoming Super Nintendo World attraction at Universal Studios Japan. And we even have a new CGI animated Mario film in development at Illumination Entertainment.
This was always part of Nintendo's plan. Newer pieces like its smartphone gaming focus came into play in recent years--a strategy that aims at accessibility as well as IP promotion via mobile games--but key parts like entertainment and movies were being plotted, albeit very selectively.
Back in 2015 Shigeru Miyamoto said the company is looking at ways to merge gaming and movies:
"Because games and movies seem like similar mediums, people's natural expectation is we want to take our games and turn them into movies," Nintendo's Shigeru Miyamoto said in an interview with Fortune in 2015.
"I've always felt video games, being an interactive medium, and movies, being a passive medium, mean the two are quite different."
"As we look more broadly at what is Nintendo's role as an entertainment company, we're starting to think more and more about how movies can fit in with that. And we'll potentially be looking at things like movies in the future."
This is just the beginning for Nintendo. Things won't stop with one movie, one attraction, one TV show or even with the Nintendo Switch or its medley of smartphone games. By combining all of these things together in an organic webwork, Nintendo will create even more appeal than it already has, and most importantly reap in millions in extra revenue.
Related Tags