Assassin's Creed: Odyssey microtransactions detailed
Assassin's Creed: Odyssey is filled with ways to pay for shortcuts and cosmetics.

Published Mon, Oct 1 2018 4:19 PM CDT
|
Updated Tue, Nov 3 2020 11:50 AM CST
We knew Assassin's Creed: Odyssey would be monetized with optional in-game microtransactions, and now we get a closer look at what the huge ancient Greece adventure will offer in its storefront.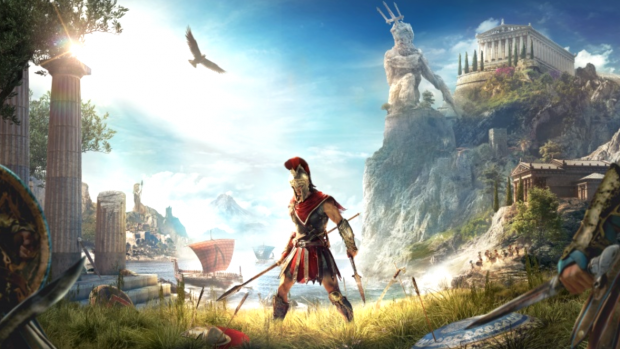 Ubisoft is always looking for ways to monetize its games. Ever keen on infusing live services into all of its titles, the publisher has found a way to successfully use RPG mechanics like grinding for materials or randomized RNG-based loot as an avenue for paid shortcuts. Like its forebear Origins, Odyssey has a lot of these options available for purchase, including time-savers like permanent EXP boosts alongside outright purchasing unique gear that affects gameplay.
The EXP boost is the most interesting. Reviews say Odyssey's third act requires lots of grinding and level-up preparation to conquer. Gamers who spend the 1000 Helix Credits (roughly $10) on the EXP boost have a clear advantage here, hinting that the game may be artificially grindy in a bid to do two things: keep players playing (the more you play the more likely you are to buy microtransactions), and of course incentivizing players to buy boosts to circumvent the time wall.
Here are Assassin's Creed: Odyssey's microtransactions, prefaced by Helix Credit prices:
500 Helix Credits - $4.99

1050 Helix Credits - $9.99

2400 Helix Credits - $19.99
Something new that Odyssey adds is cosmetic ship purchases. Once Ubisoft announced ship-to-ship combat was such a big part of Odyssey, I immediately thought it'd be convenient to monetize with colorful sails, ship ornaments, etc. And lo and behold it came to fruition.
Remember, we originally predicted AC: Origins would be monetized with microtransactions ahead of official confirmation.
Overall Odyssey is a means of hitting multiple targets for Ubisoft, including engagement via live services and continual updates and microtransaction revenue, as well as full game sales thanks to a robust and full RPG experience. Not surprising given its digital-first plan, which focuses strongly on recurring player investment and digital earnings, the publisher has said that it wants gamers to play Assassin's Creed: Odyssey for years to come.
"What you'll have is lots of content coming. The team really want to give, on a regular basis, some new possibilities for play. So when you get [Odyssey] this year, you're going to get in for a couple of years." Ubisoft's Yves Guillemot told Gamespot.
This is just the beginning, though, and we should see more microtransactions rotate over time.
Assassin's Creed: Odyssey will be out October 5, 2018 on PS4, Xbox One and PC.
Related Tags