Ubisoft hints AC Origins' RPG elements will be monetized
Ubisoft hints that Assassins' Creed: Origins may have loot-based microtransactions.
Published
3 minutes & 59 seconds read time
Ubisoft has stated that all of its games will have live services that tie into recurring player investment, hinting that Assassin's Creed: Origins may be monetized with in-game purchases and microtransactions. In a Q1 earnings call, key Ubisoft executives give more clues on how the next Assassin's Creed will continue earning money long after initial sales.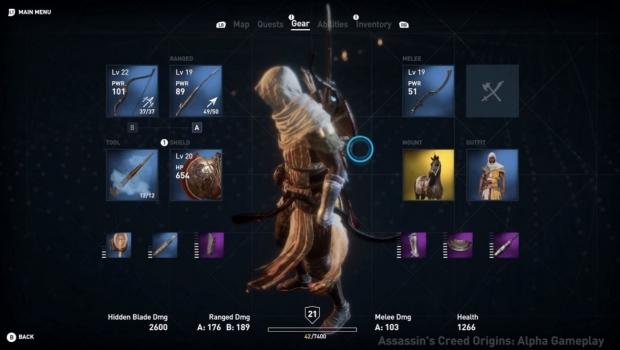 French games-maker Ubisoft has made a tremendous transformation in the last few years, and its digital-first strategy is paying off big. Instead of focusing on single-release games, Ubisoft has embraced the next evolution of gaming which sees digital titles being treated as a service--the Games-as-a-Service trend, or GaaS--to ensure its games keep pulling in revenues months or even years after release. One of the main ways it achieves this goal is by infusing microtransactions into its games. While online multiplayer games like Rainbow Six: Siege and For Honor are obvious choices for this monetization path, traditional game like Assassin's Creed are prime targets as well.
The Assassin's Creed series is no stranger to in-game microtransactions, and I expect the upcoming Egypt-based Assassin's Creed: Origins to be no different. I've already predicted that Ubisoft will monetize AC: Origins with loot boxes that contain randomized items, gear, or skill buffs, and now key corporate Ubisoft execs are adding weight to these predictions. In a recent Q1 earnings call, Ubisoft exec Alain Corre hints that the company may use Origins' heavy RPG focus as a path to recurring revenues.
"As of today we expect Assassin's Creed: Origins to be bigger than AC: Syndicate, however our estimates are still below games like AC: Unity and we'll have to see what happens. What I can see is that we've been conservative in our [Origins game sales] estimates," said Alain Corre, Executive Director of Ubisoft's EMEA branch.
"As far as the digital potential for Origins and its engagement capability, as we've said we really invested heavily to increase the RPG side of the game. [As a result of this investment] we clearly feel that we have better potential to increase the engagement of the game, and we believe that therefore the player recurring investment will continue to grow."
Read Also: Assassin's Creed: Origins is likely to have microtransactions, and here's how they may work
Possible mTX monetization paths in Assassin's Creed: Origins
Loot packs purchased with premium virtual currency that unlock random weapons, armor and gear; packs would be sold in "tiers" of higher cost and greater chances of higher-end gear

Allow players to buy weapons, armor and gear directly with premium virtual currency

Offer cosmetic microtransactions that are purchased with premium virtual currency

Sell crafting materials to speed up the gear fortification process, which will also be purchased with the same premium virtual currency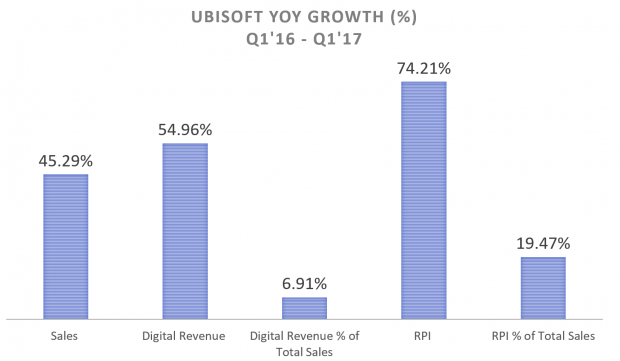 Q1 earnings of Ubisoft's PRI, which includes digital game add-ons, in-game purchases/microtransactions, and DLC packs, has grown signficantly year-over-year.
Essentially what Mr. Corre is saying here is that Origins' RPG elements, which are heavily based on randomized loot, will create lots of engagement as players will have lots of incentives to not only keep playing, but share their exploits across the web. Origins offers a kind of action RPG sandbox where players can combine weapons, skills, and strategies in unique ways, essentially making ancient Egypt into a playground.
This, I think, is the key to Assassin's Creed: Origins' long-term revenue streams.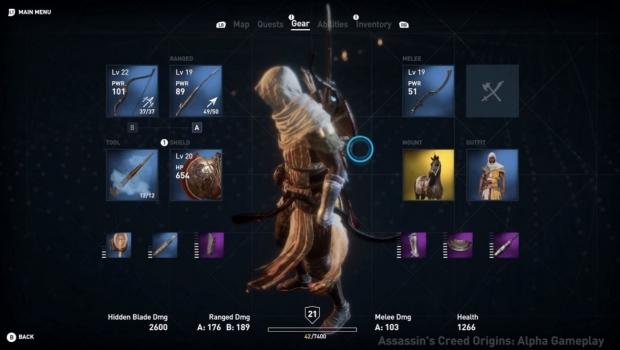 Assassin's Creed: Origins will have extensive randomized loot options that could be monetized with in-game purchases, such as blind loot boxes or outright item purchases.
Mr. Corre goes on to say that other key Ubisoft games have benefited from increased engagement, which is actually a big driver for all digital games across the industry.
"We've seen that happening not only on our live games but all of our traditional games; for instance, Ghost Recon: Wildlands has very good KPI's (key performance indicators).
"So we think it's going to be positive. That said, we also took into account that Assassin's Creed is more of a mainstream game and it will launch in October so the physical sales of the game will be bigger than games that release later in March.
"As you've seen, the trend is to increase more digital distribution for each of our games, and all of our games are growing, and more recurring investment from our games regardless of what kinds of games we're dealing with."
While Assassin's Creed: Origins will indeed have a season pass for digital DLC content, I believe that Ubisoft will infuse more player recurring investment (PRI) into the game, especially since it's one of FY2018's biggest releases.
Assassin's Creed: Origins is slated for release on October 27, 2017 on PS4, Xbox One and PC via uPlay.
Related Tags