NVIDIA's new GeForce RTX 20 series graphics cards are nearly here, with MSI updating its OC software with the release of Afterburner v4.6.0 beta 9 (built 13319) that adds support for Turing GPUs. It also features MSI Overclocking Scanner, which is powered by the new NVIDIA Scanner that auto overclocks your GeForce RTX series graphics card.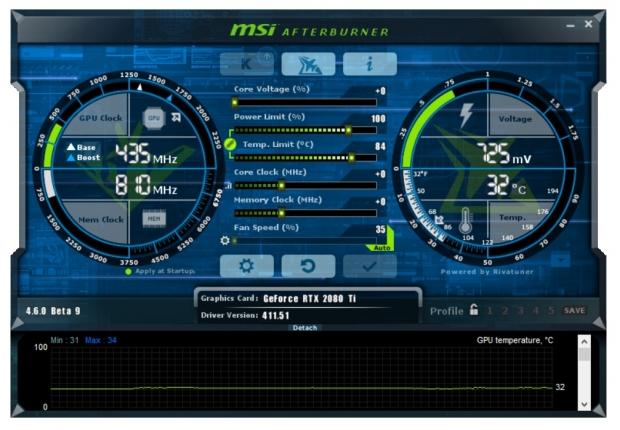 The changelog for the new version of Afterburner includes:
Added voltage control for reference design NVIDIA GeForce RTX 20x0 series graphics cards

Advanced GPU Boost control for NVIDIA GeForce RTX 20x0 series graphics cards. Extended voltage/frequency curve editor on GeForce RTX 20x0 family graphics cards allows you to tune additional piecewise power/frequency floor and temperature/frequency floor curves. Control points on those new curves allow you to control GPU Boost power and thermal throttling algorithms more precisely than traditional power limit and thermal limit sliders

Hardware abstraction layer has been revamped to provide support for multiple independent fans per GPU due to introducing dual fan design on reference design NVIDIA GeForce RTX 20x0 series graphics cards and due to introducing native dual fan control in NVAPI. Both fans of NVIDIA GeForce RTX 20x0 can be monitored independently in hardware monitoring module now and can be controlled synchronically in manual mode

Added NVIDIA Scanner technology support
The new Afterburner v4.6.0 beta 9 sees a bundled MSI Overclocking Scanner application which works on RTX 20 series graphics cards on 64-bit OS only. MSI says that the "MSI Overclocking Scanner is powered by NVIDIA Scanner technology, which is using proprietary algorithms to quickly and reliably test manually overclocked GPU stability or find the maximum stable GPU overclocking in automatic mode with a single click. The scanner is using embedded NVIDIA test load to stress GPU. The scanner provides you two functional modes".
These two modes are:
In test mode MSI Overclocking Scanner is stress-testing your manual GPU overclocking settings during approximately 5 minutes. The result is returned as GPU stability confidence level (0% - unstable, 100% - stable)

In scan mode MSI Overclocking Scanner is stress-testing and slowly increasing clocks on voltage/frequency curve points and this way automatically detecting the maximum stable GPU overclocking. The result is returned as modified voltage/frequency curve and average GPU overclocking inMHz