Marios Tennis Aces: Switch update brings online storage
The next Mario Tennis Aces update will be bringing players online cloud storage.

Published Mon, Sep 17 2018 5:00 AM CDT
|
Updated Tue, Nov 3 2020 11:50 AM CST
An announcement featured on the Nintendo website has revealed that Mario Tennis Aces players will have cloud storage available to them after the planned update scheduled for September 19th.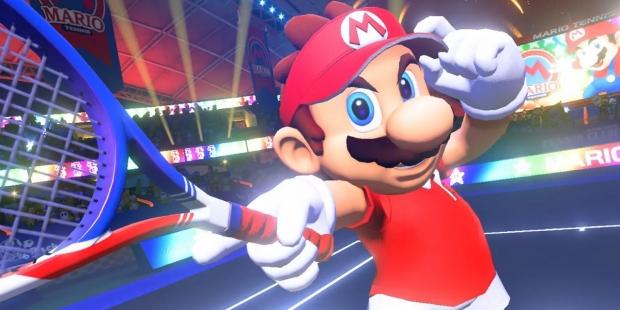 Update titled 2.0.0 will be bringing players a bunch of new online multiplayer features. This update will allow for players' tournament records to be saved onto the cloud storage which in turn will highly benefit players that have multiple Nintendo Switch systems. An example would be if a player had more than one system and decided to switch over to their other system, instead of removing the SD card the player can simply log into their Nintendo Online account and jump straight back into where they left off.
The update also brings some balancing changes to each of the characters, the characters that have been tweaked by this update are the following: Donkey Kong, Daisy, Blooper, Wario, Spike, Toad, Waluigi, Peach, Luigi, Diddy Kong, Rosalina and Boo. Update 2.0.0 is planned for release on September 19th, for further details about the patch notes please visit the official Nintendo website here.
Version 2.0.0:
New Game Mode Added
The Co-op Challenge game mode has been added. This is a mode that will be available online during special events.

A Nintendo Online Service subscription is required to play online.

Co-op Challenge: Boo Hunt will be available from the distribution of Ver.2.0.0 on Wednesday, September 19th until 9:00 AM on Thursday, October 11th. This is a mission where you play using Swing Mode. Team up with friends online or off or find players online to work as a group of four toward achieving the challenge's goal. (Up to four players can play on one Nintendo Switch console if there are enough Joy-Cons.) You can acquire costumes for Boo (three different colors of visors) by reaching certain challenge goals.

Only players who reach the goals can acquire these costumes.
Changes to Shot System:
The waiting time for the rotating Star Point when hitting a Zone Shot has been extended 15/60th of a second. The opportunity to hit a Zone Shot has been increased by that amount.

The way a rotating Star Point disappears has been changed from fading out to simply disappearing after the wait time is over.

The amount of energy used when using Zone Speed has been adjusted.

The minimum energy used was reduced from 25% to 20%.

The consumption per 1/60th of a second has been increased from 0.25% to 0.3%.

When returning a shot from a short use of Zone Speed, the minimum energy spent (20%) will be used.

It's now easier to hit volleys closer to the net.

When characters who are not good at volleying are far from the net, the differences in their power when hitting the ball have been reduced.

When entering a Zone Shot right after Zone Speed, the minimum energy needed at the beginning of the shot has been eliminated. Therefore, you can commit to this transition with less energy used.

How far you are pushed back when you return a Max Charge Shot has been adjusted.

Even if you hit it back you will be pushed back more than in Ver.1.2.0, but there's less of a difference between characters regarding how far they'll be pushed back.

The knockback type Special Shot has been strengthened.

We extended the length of time an opponent is frozen after receiving a Special Shot from 30/60th of a second to 60/60th of a second.

There's no change to the freeze time for the rotating-type Special Shot.

The issue where Special Shot or Zone Speed didn't work if you held the L or R Button while still swinging when returning a Special Shot has been fixed.

You're no longer knocked back when successfully blocking a Special Shot or Trick Shot when returning it.

You will hit a lob if you don't press the L Stick up or down when hitting a shot with the X Button.

You can confirm a shot with the X Button after your character jumps into the air during a Zone Shot and is deciding where to shoot.

The "in" area on the court lights up so that it's easy to tell what areas are good to aim for when hitting a Zone Shot, Zone Shot Serve, or Special Shot.

There's less of a chance of a ball going out after tipping over the net when you're doing a drop shot during a Max Charge Shot.

It's now a fault when hitting a serve against the net post.
Related Tags