Assassin's Creed: Odyssey's dialog can trigger quests
Odyssey's new dialog options can actually open up new questlines.

Published Wed, Sep 12 2018 4:33 PM CDT
|
Updated Tue, Nov 3 2020 11:50 AM CST
For the first time ever Ubisoft is including dialog mechanics that can actually change the course of your Assassin's Creed story.
Assassin's Creed: Odyssey already looks absolutely amazing thanks to its ancient Greece timeframe and Origins-based combat, but Ubisoft is keen on morphing the series into a RPG. Unlike previous games, Odyssey will give players tons of freedoms and choice both in how they tackle quests and explore, but also how they interact with NPCs. These dialog interactions will shape and mold your personal odyssey throughout the myth-infused Aegean, and your choices will ultimately unlock new pathways or block them off.
In a recent interview with VG247, Odyssey senior producer Marc-Alexis Cote says dialog options can determine what quests are available to you. And it's not always straightforward or black and white--you won't immediately know how your choices affect questlines or characters. This reminds me of a radiant quest system found in a lot of today's popular RPGs and will add more depth to specific decisions.
"Depending on what you answer, it may lead to an entire quest line down the road. We've taken the approach where we don't tell you you're about to make an important choice. We tell you at the beginning to be careful about the choices you make because they may have an impact. We don't promise anything. We try to keep this very blurry so players are always looking for the consequences of the actions they've taken," the producer said.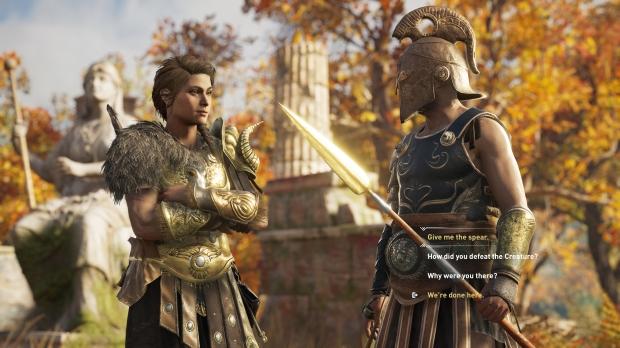 Armed with this new dialog system and an emphasis on randomized RNG-based gear, Ubisoft now considers Assassin's Creed a fully-fledged RPG. We should see these mechanics carry forward in future games.
Here are a few other tidbits we know about Odyssey:
Likely to be monetized with optional time-saving options and purchasable weapons on uPlay
Assassin's Creed: Odyssey releases on October 5, 2018 on PS4, Xbox One and PC.
Check below for more details about the game:
For the last three years, the team at Ubisoft Quebec has been creating an exciting new chapter for the Assassin's Creed franchise. In Assassin's Creed Odyssey, the action takes place in Ancient Greece, a world rich with myths and legend, in fifth century BC during the Peloponnesian War between Sparta and Athens.

Playing as Alexios or Kassandra, a mercenary of Spartan blood sentenced to death by their family, players will embark on an epic journey from a young outcast to a legendary hero and uncover the truth about their mysterious lineage.

Assassin's Creed Odyssey is an ambitious action role-playing game that places choice at the center of the experience.

An all-new interactive dialogue system empowers players to forge their own path and impact the game's world, characters and story to shape the future of Greece. Players will customize weapons and gear, master and equip new special abilities, and charge into massive battles between Sparta and Athens, pitting hundreds of soldiers against each other. The return of open-world naval combat allows players to seamlessly explore the open seas, customize their ship and recruit their own crew with unique perks.

With the entire country of Greece to discover, from pristine beaches to vibrant cities, from the heights of snowy mountain peaks to the depths of the Aegean Sea, players will encounter Ancient Greece's famous figures and myths as they live their own odyssey.
Related Tags