Assassin's Creed: Odyssey has uncapped FPS on PC
Ubisoft has a whole studio dedicated to optimizing AC: Odyssey on PC.

Published Sat, Sep 8 2018 5:37 PM CDT
|
Updated Tue, Nov 3 2020 11:50 AM CST
Since games are on PC hardware that's dramatically more powerful than scaled-down consoles like the PS4 and Xbox One, it only makes sense AAA devs and publishers should tap the full brunt of the platform's advanced graphics and CPU tech. Ubisoft aims to do this with its big new ancient Greece-themed Assassin's Creed game.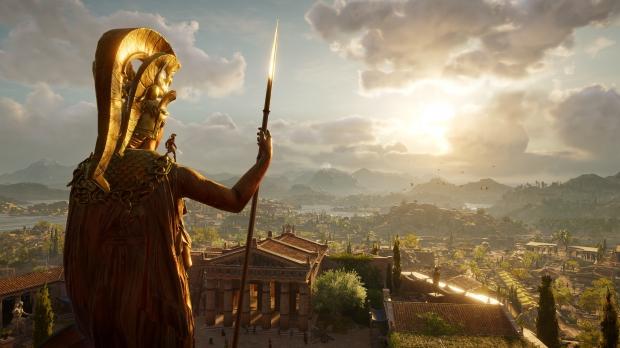 Just like Origins, Assassin's Creed: Odyssey is getting special attention on PC and will have various upgrades to surpass the console version. On the heels of announcing Odyssey's PC spec requirements, Ubisoft confirms that the game is being made specifically by its Kiev branch with higher-end optimization in mind.
The PC flavor will have dynamic resolution scaling enabled by default, but this can be turned off to enable uncapped FPS for more powerful graphics cards. PC gamers can also adjust a bunch of graphics settings (more specifics likely coming soon) and benchmark their hardware to boot.
"As was already the case for Assassin's Creed Origins, the PC version is not a port of the console versions of the game, but a tailored experience developed by a dedicated team at Ubisoft Kiev in close collaboration with Ubisoft Quebec, the lead studio on Odyssey," said Associate Communication Specialist Youssef Maguid.
"Having a dedicated team on the PC version allows us to offer the level of customization that PC players expect, which will enable them to adapt the experience to their PC configuration. The PC version of Assassin's Creed Odyssey will also include unique features not found in the console versions, such as benchmark tools to test the different graphics settings, and a toggle option for dynamic resolution rendering to uncap the framerate."
Assassin's Creed: Odyssey will release on October 5, 2018 on PS4, Xbox One and PC.
Check below for more info about the game:
For the last three years, the team at Ubisoft Quebec has been creating an exciting new chapter for the Assassin's Creed franchise. In Assassin's Creed Odyssey, the action takes place in Ancient Greece, a world rich with myths and legend, in fifth century BC during the Peloponnesian War between Sparta and Athens.

Playing as Alexios or Kassandra, a mercenary of Spartan blood sentenced to death by their family, players will embark on an epic journey from a young outcast to a legendary hero and uncover the truth about their mysterious lineage.

Assassin's Creed Odyssey is an ambitious action role-playing game that places choice at the center of the experience.

An all-new interactive dialogue system empowers players to forge their own path and impact the game's world, characters and story to shape the future of Greece. Players will customize weapons and gear, master and equip new special abilities, and charge into massive battles between Sparta and Athens, pitting hundreds of soldiers against each other. The return of open-world naval combat allows players to seamlessly explore the open seas, customize their ship and recruit their own crew with unique perks.

With the entire country of Greece to discover, from pristine beaches to vibrant cities, from the heights of snowy mountain peaks to the depths of the Aegean Sea, players will encounter Ancient Greece's famous figures and myths as they live their own odyssey.
Related Tags